Has the fire dwindled between you and your lover these recent years? Rekindle it and enjoy intimacy again with these suggestions to fix your dead bedroom.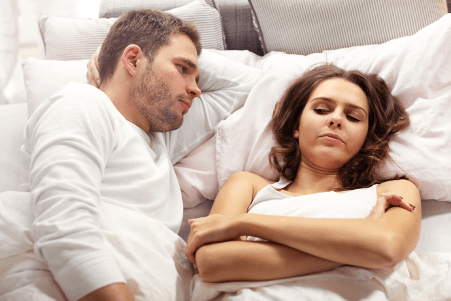 Did you know couples are having less and less sex? One in four couples only has sex once a month, while one in five only has sex twice or thrice a year.
It gets worse – a dead bedroom isn't something couples can solve in an instant. Around 40% of such cases end up lasting one to five years. That doesn't mean it's impossible, though.
The key is to not treat a dead bedroom as a problem. Rather, see it as a symptom of an underlying issue. That way, you can treat it at its roots, which is more effective for both parties.
Read our tips below to learn how you can get intimacy back.
1. Fix Your Relationship Issues
Sometimes, the root cause of a dead bedroom is hidden relationship conflict. When you have resentment against your partner, you won't likely get in the right mood.
In many cases, the issue is still fixable. You only have to learn how to communicate with your partner.
First, sit them down and talk about what you feel about the lack of intimacy. What does it make you feel? And what do you need to resolve it?
Encourage your partner to talk, as well, and let them know you're all ears for what they have to say. It's important for both sides that you will receive the other's concerns with an open mind. It's not the time to point fingers and become defensive.
You might have to ask a lot of questions before you get the other to open up, though. Ask how they feel about you in terms of attraction or ask if they're having self-esteem issues. Don't forget to ask if they're harboring resentment or negative feelings, as well.
As you talk, you might be able to pinpoint the exact reason/s for the dead bedroom. One may be undergoing a mental issue or they may be feeling unloved and so.
Once you get to the cause, it will be easier for both of you to form a solution. You can compromise and meet halfway – at a point where you're both comfortable. You can bring up counseling or going to the doctor to fix a medical issue, for example.
2. Learn to Communicate in the Bedroom
Communication has a place inside the bedroom, too. Once you become more open with each other about your feelings and thoughts, you can bring that openness to the bedroom.
This way, you'll be able to communicate about what turns you on. You might also learn new things about what your partner likes.
Learning how to be open about your sexuality will allow you to explore new things. It keeps the excitement alive, and you get to enjoy the experience more.
3. Do Something New to Liven Up Your Dead Bedroom
One thing that may be missing in your bedroom is excitement. Doing the same things over and over again can make them feel like a chore. The intimacy goes away and in the end, one or none of you may be looking forward to it.
Doing something new can be the spark you need to liven up your dead bedroom.
You can agree to try out new positions, for example – something you've only seen in the movies. If both of you feel more daring, you can visit a sex shop and buy something you can use in your bedroom.
When you're feeling more comfortable, try to talk about your fantasies. Explore each other's fantasies in turns so no one will feel left out.
Communication is the key here as you both have to agree to each other's boundaries. Don't try to force your fantasy upon your partner if it makes them feel uncomfortable. Don't force yourself, too, to try something you're uncomfortable with.
It should be an enjoyable experience for both of you. Conversely, you shouldn't be so quick to dismiss something new only because you're not familiar with it.
4. Consider Going to Sex Classes
You can also learn new stuff by going to sex classes. It sounds awkward, but there's a lot you can learn from here if you give it a chance.
You'll have teachers who know what they're doing teach you about new techniques, for example. You won't get these from porn, as they don't often use natural positions in the videos, anyway.
You will also learn how to play in the bedroom and how to fulfill each other's wants. You'll learn the how's of sex and not only how to have it.
5. Set Some Time Aside
If intimacy isn't coming to both of you naturally, then you must set aside time for it. This may make it sound unromantic, but for many, it's an intimate gesture.
Setting aside time for it may mean going on a staycation for a weekend or having a date night at your favorite restaurant. It can be as simple as going home earlier than usual and then tucking the kids in early.
Many couples find having a sex schedule works, so it's worth a try, as well. You can talk with your partner to decide on a day that works for both of you. You must both agree that you will stick to it, no matter what.
That may mean refusing your friends' invitation to go out that day or dropping the kids off at their grandparents' so you can have time for yourselves. Scheduling it gives you time to take care of possible hindrances.
Sex doesn't have to be spontaneous all the time. And having a schedule doesn't make it any less romantic. The more you stick to your schedule, the more you'll feel connected and desired.
If it doesn't work, don't worry too much about it. Other solutions might work better for you and your partner.
6. Create a More Fitting Mood
If it's hard for you both to get into the mood, then create that mood yourself. Get away from the messy house and your screaming kids; plan a date night away from your stressors.
Alternatively, you can stay in the house and let your in-laws watch over the kids at their house. Clean the house and put on some soothing music. Digital services like Spotify can help you as it has premade playlists you can use.
You can order take-out, but if you want to take it further, you can try to make a meal yourself. Dim the lights, bring out the wine or champagne, and light some candles.
This is only an example of what can create a romantic mood. You know your relationship best, and you should know what makes the other get into the mood. So, you can get creative and plan a whole date night around it.
7. Manage Your Stress
Sometimes, there's no other underlying issue other than the everyday stress. It can get the best of us, but if you want things to start turning around, you have to do something about it.
It puts us out of the mood and it makes us unable to perform. If both you and your partner are experiencing extreme stress, it may be the cause of your marital problems.
Learn how you can manage your stress and then encourage your partner to do the same. You can even do some stress-relieving activities together. Not only will this help you let go of stress, but it will also bring you closer.
Try exercising, meditating, and yoga. You can also do some relaxing activities like going to the spa, having a massage (or giving each other one), or watching your favorite TV show.
Take some time off to unwind; you may even find a hobby that will help you focus on something you enjoy. This may put you in a better mood, in general.
8. Start with Small Gestures of Affection
After talking it out with your partner, jumping to sex right away might make it feel like a duty. This won't fix the issue and the result will still be the same.
Intimacy has to be there to make the experience worthwhile for both parties. It has to be enjoyable, which we'll cover later.
That's why it's worth starting small and rebuilding your trust and connection with each other. You can start by holding hands more often, giving more compliments, and paying more attention to each other.
Small gestures like putting the kids to sleep or washing the dishes is a good start, too. It will make your partner appreciate you more. And appreciation might turn into affection.
Even putting down the phone and having a heartfelt communication for 15 minutes each day can do wonders for your relationship.
As you connect better with your partner, affection and intimacy will come naturally. You can increase your affection over time – from holding hands to snuggling on the couch. In time, reviving the dead bedroom will feel like the most natural thing to do.
9. Try Libido Enhancers
There's no shame in getting a little boost from outside sources. If it's the cause of your dead bedroom, then try some libido enhancers.
You can try natural sources first, like foods that can enhance your low sex drive. Aphrodisiacs, as we call it, have long been in use in human history. Some of these are readily available in your kitchen.
In general, people believe that foods resembling human genitalia can increase sexual desire and pleasure. Foods like cucumber, carrots, eggs, clams, and oysters come to mind.
Some people also believe that bananas, avocados, chocolate, and pomegranate have aphrodisiac qualities, too. These aren't based on scientific evidence, however, and are only cultural. Regardless, they're worth a try if you're struggling in the bedroom.
Chilis and other spicy foods are also worth a try as they make your body feel hot. They increase blood flow and might boost your libido, as well.
You can also try herbal remedies, like red ginseng, fenugreek, and ginkgo Biloba. You can eat some of the herbs or prepare them as tea. You can get them in pill form, as well.
Speaking of pills, you can also try other supplements that might help you. Look for reviews online and see which one you can try. For instance, you can check out a few Viril-X reviews here.
10. Go to a Sex Therapy
Sex therapy is one of the best ways to find out the issue and find a way out of it. Sometimes, you can't communicate the issue well.
Going to a counselor or sex therapist will allow you to get down to the root cause. They can help each of you get more comfortable in communicating your feelings.
Some issues, you can fix yourself, like stress, and having no time. Others, however, need therapy to help you get through it.
Examples are low self-esteem, trauma, negative connotations about sex, shame, and such. Anxiety and depression are also psychological factors in a dead bedroom. They require serious intervention, too.
In other words, a sex therapist won't only help you open up when you find it hard to do without a third party, but they will also help you deal with whatever you need to deal with.
11. Go to Your Health Provider
Sometimes, there are medical reasons why you have a dead bedroom. You or your partner may have sexual dysfunction that none of you is aware of. In this case, you won't find a solution on your own no matter what you do.
You also have to consult a doctor when nothing's working. Your hormones may be dropping, for example. You might have to take some medications to solve that.
If you're on medications, then it might be the cause of your low sex drive. Talking to your doctor will allow you to find solutions to counteract that side effect.
12. Explore New Ways To Connect
If your sex life needs some spicing up, try exploring different ways of connecting with each other outside the bedroom. This could include activities like taking turns planning out dates for each other, engaging in shared hobbies such as cooking or bike riding together, participating in enjoyable conversations at home or over dinner, going on hikes or nature walks together—the possibilities are endless! Doing something new will help put some novelty into your relationship while also keeping things lighthearted and fun.
Get Your Partner On-Board
No matter what you do or willing to do, it won't matter if your partner's not willing to fix your dead bedroom issue. They have to be willing to try new things, go to a therapist, or at least talk it out with you.
Otherwise, there's a serious problem in your relationship you must address first. But don't stop with bedroom intimacy! If you need more relationship tips, check out more on our blog right here!