Whether you're going to happy hour with coworkers, on a date, or you simply want to add class to your look, a blazer will help dust-up your appearance. And every guy should have at least one hanging in his closet.
But blazer hunting can be tricky if don't know what you're doing. Should you go with a one or two-button style? What's best for cool weather? Or warm weather? And will you look half as goofy as the Zoolanders who model them?
Those are all valid questions, and we removed the guesswork for you as well as cut off the models' heads in our photos so you won't be bothered by their Blue Steel imitations.
CHOOSING BUTTONS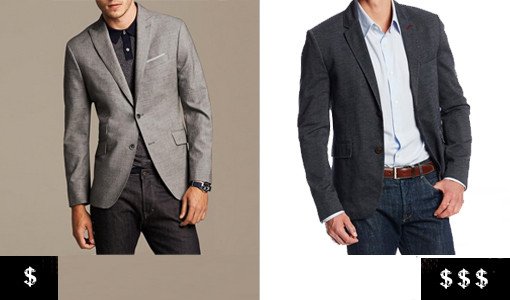 Affordable: Single-button blazer from Banana Republic ($125 @ Amazon.com)
High-end: Ted Baker Birdseye Jacquard Two-Button Blazer ($350 @ Amazon.com)
Single-button blazers will work best on slim, short guys who aren't afraid to look trendy. Read: If you're headed to an RNC convention, it's probably best to skip the one-button suit for something more traditional.
Two-button blazers are a classic look that never go out of style. They will also make you appear taller by lengthening your torso.
Three-button blazers are fine if you're in the market for a suit; they'll work for trim guys who are six-feet and taller since the buttons go higher on the chest. When buttoning, go with the top two or one button at the top or middle. However, if you're just going to buy a blazer, go with a one or two button.
IN WARM WEATHER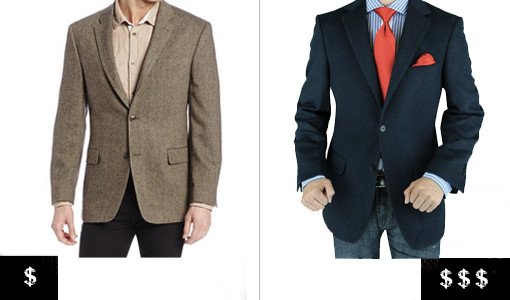 Affordable: Tommy Hilfiger Men's Two Button Side Vent Willow Feather Weight Sport Coat Ellis ($170 @ Amazon.com)
High-end: Luciano Natazzi Men's Navy Blue Camel Hair Blazer Side-Vent Jacket ($250 @ Amazon.com)
Light, breathable materials like linen and cotton are ideal for warm-weather blazers — unless you're content with sweating your ass off. Avoid pairing a light-colored blazer with khaki pants so you don't look too stuffy. Opt for jeans and brown dress shoes instead.
IN COOL WEATHER

Affordable: Ralph Lauren Brown Corduroy Sport Coat Jacket ($120 @ Amazon.com)
High-end: Dolce & Gabbana Gray Corduroy One Button Blazer ($305 @ Amazon.com)
A corduroy blazer should be heavy enough to serve as your overcoat when the weather begins to cool. They're comfortable, stylish, and great for casual dinners or dress-down Fridays at work. They go well with jeans, flannels, polo shirts, vests, sweaters, and a pair of boots.
BASIC BLACK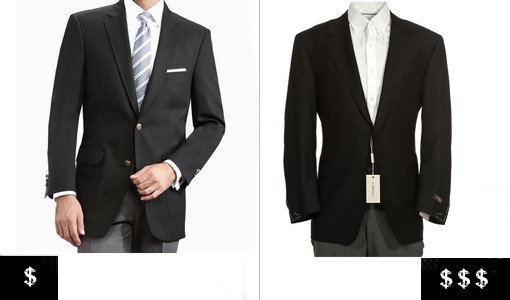 Affordable: Men's Elegant Classic 2 Button Blazer ($65-$75 @ Amazon.com)
High-end: John Canali Mens Cashmere-Wool Jacket ($488 @ Amazon.com)
The basic black blazer works with all body types and can be worn at both casual and formal occasions. Try buttoning only the top button to create a waistline. A pair of darker jeans will make your look more formal, but go too light with your pants choice — like khaki — and you risk looking cheesy.
LIGHTER COLORS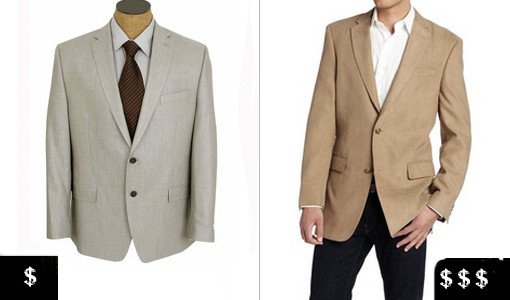 Affordable: Calvin Klein Mens Gray Weave Slim Fit Silk Wool Sport Coat ($85 @ Amazon.com)
High-end: Jones New York Men's Two-Button Side-Vent Corey Suede Sport Coat ($295 @ Amazon.com)
A black blazer is a common first date choice. Like too common. So go lighter. Colors like grey or khaki go well with a dark T-shirt, blue jeans, and a pair of black shoes. It'll create a balance between casual and dressy, and she might think the change of pace means you actually give two shits about the way you dress.
Here are some tips to help you choose the right blazer:
Consider the occasion: If you're wearing a blazer to work, you'll want to choose a classic, professional style in a neutral color such as black, navy, or grey. For more casual occasions, you can experiment with different colors and patterns.
Choose the right fit: A blazer should fit comfortably, but not be too loose or too tight. It should hug your shoulders and fall neatly at your hips. If you're in between sizes, choose the smaller size for a more tailored fit.
Pay attention to the details: Look for blazers with well-constructed lapels, buttons, and pockets. These details can make a big difference in the overall look and feel of the jacket.
Experiment with different styles: There are many different styles of blazers available, from single-breasted to double-breasted to oversized. Choose a style that flatters your body type and makes you feel confident and comfortable.
Think about the fabric: The fabric of a blazer can greatly affect its appearance and comfort. Wool blazers are classic and professional, while cotton and linen blazers are more casual and comfortable. Consider the season and the climate when choosing a fabric.
By considering these factors, you should be able to find the perfect blazer to suit your needs and personal style.