Car washes will always have a demand as long as vehicles travel the roads, making it an excellent business venture because you'll have a steady supply of customers. Before you begin the entrepreneurial journey of owning a car wash business, it's essential to know the basics of success. That's because you want the best chance to get past your first year – it's when most businesses fail. Here are the top pointers to help you start a car wash business.
Choose a good location
Car washes aren't automatically successful when opened. Selecting a suitable location will significantly impact the success of the business. It needs to be in a place where there's lots of traffic and open for people to spot easily. There are several other important factors:
Is there enough power and water supply available on site?
Are sewer drains nearby?
Is it highly visible for people to spot while driving?
How easy or difficult will it be to get permission to open the car wash?
Are there enough cars going past the location?
Is there sufficient space to have multiple cars cleaned at once?
These pointers will help you select the ideal location to open the business. Remember that a decent location will cost a lot more. However, the investment is worth it due to the extra customers going through.
Insurance
Before starting any business venture at a physical location, the customer needs to be insured. You never know what can happen and something as simple as pressure washing insurance can save you a lot of money. It lowers the stress of running a car wash business because you won't go bankrupt from unforeseen accidents.
Other insurance types car wash business owners should know about include commercial general liability, garage liability and workers compensation. Make sure that you are covered for each scenario so that your business does not have any liability blind spots.
Marketing
Customers will not know about your service if you don't spread the word. Therefore, you need to market your business. Ensure that the community knows about your car wash business ahead of the grand opening by marketing on social media, paper, and local radio. Set a budget for the marketing plan and learn what works. Advertising is a lot of trial and error, and once you get the strategy right, the ROI of your marketing spend will increase. However, if you're new to this, you can hire a marketing agency in order to get things right from the very start. Here, you also need to consider creating your own car wash business website that fully complies to web accessibility laws and strictly adheres to ADA & WCAG 2.0 guidelines, so that all types of users, irrespective of their physical disabilities can access your site with relative ease. This is where an expert like "Accessibility Spark" can help you, by installing and integrating web accessibility tools for disabled on your website.
Equipment
The start-up cost of a car wash can become rather expensive because of the equipment. Equipment for a self-serve wash runs between $8000 – $10,000, and an automatic unit can cost $30,000 to $50,000. Therefore, it's important to get insurance to cover costs in case anything breaks.
Additionally, you'll need the following equipment if you want to run a personal wash service:
Chemicals
Vacuums
Blowers
Dryers
Brushes
Towels
Pressure washer
Payment processing system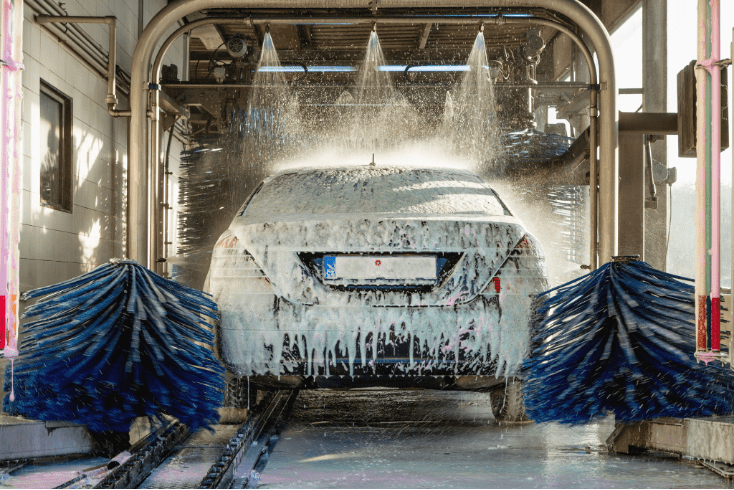 Review the competition
Broaden your search and get a feel for the local car washes in the area. How many customers do they have, and what is their marketing strategy? Find out what works in the area and what is missing. Capitalize on your competitor's mistakes and provide a better service. Also, offer discounts so that customers flock to you rather than to competitors.
Entrenched local competition is dangerous for new businesses. Select a location that is more visible and away from other car washes. If you provide a better and more welcoming service, you'll undoubtedly take a fair share of the market in the local area.
Don't skip the paperwork
Locate the department that handles business licenses and requests an application. Inform yourself about the tax rates, utility usage codes, insurance requirements, and other factors for opening a business. To open a business, you'll need a taxpayer identification number and make sure to get a US patent and trademark. This will prevent you from being liable for using the wrong name.
Final thoughts
Launching a car wash business is an exciting and interesting experience. However, to ensure that you have the best chance of succeeding, implement these vital pointers. Start today and you can reap the rewards sooner rather than later. They will give you a clear advantage over other competitors and leave them scratching their heads as you win their customers.