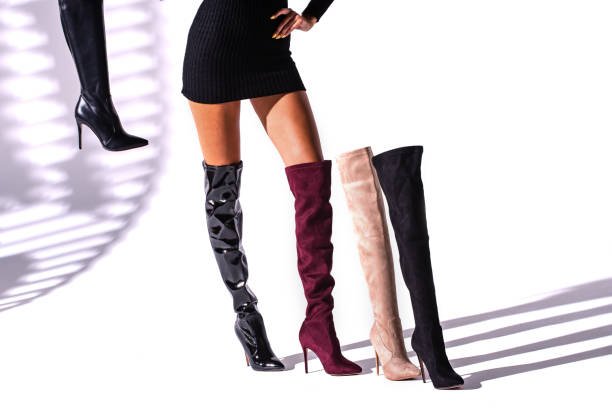 In female footwear, Women's knee-high boots hold a reputed position. This is because of their variety of offerings and how easily these boots can be paired with most if not all the clothes for every occasion. These knee-high boots stay just an inch or two below the knee. Hence, the choice of over-the-knee and knee-high boots comes to personal taste. The over-the-knee highs require a considerable investment due to the fact that the quality increases with price and only at a higher price range does the product last longer. And then there is the difficulty of finding the product for your desired price range. Hence for such people, knee-high boots are a wonderful alternative. In this article we shall look into some styling tips that go hand in hand with your newly bought knee-high boots:
The Styling Tip:
With that aside, let us now look into some of the best outfit ideas that pair wonderfully with knee-high boots and shoes alike:
Knee High Boots With Jeans:
By far the most paired outfits with knee-highs are jeans. Every woman has access to jeans, hence it is natural that these wonderful knee-highs match perfectly with jeans. For casual everyday wear, blue or black jeans would go well with a black or brown knee-high pointed boot. If you are confused, here is a basic tip. When matching outfits with boots, all you need to do is pair the jeans and top with a matching color knee-high boot.
Knee High Boots With Leggings:
Leggings, like jeans, are another wonderful choice for knee-high boots. Unlike jeans, leggings being a tight fit gives our legs enough shape making them the highlight of our outfit. Hence it is only fair to pair them with a gorgeous pair of shoes, in this case, knee-high boots. Just like jeans, match the boots with the color of the leggings and you should be good to go. If you plan on matching your boots with leggings, try them with a tight fitting knee-high boot and see how amazing it will look on you.
Knee High Boots With Skirts:
We are in the same boat if you too love skirts as much as I do. For us, the knee-high boots are god sent. In fact, if you swear by lace-up knee-highs, you got to match them with a skirt at least once. In addition, skirts are a flexible choice for almost all types of knee-high boots out there. Be it lace-up, flat, pointed-toe, chunky, or high-heeled, skirts, unlike other outfits mentioned on this list can be matched with these knee-high styles without breaking a sweat.
Knee High Boots With Dresses:
Summer is the best time to wear those jaw dropping summer dresses. That's not it, a little black dress has been a wardrobe staple for many years now. Hence it is also common for women to want to match them with knee-high boots. Dresses, especially a little black dress for date nights and dinners will almost always go hand-in-hand with a knee-high boot, black being the preferred color here. As for summer dresses and dresses of varying lengths, knee-highs are a great choice here as well. Just make sure to match the dress with the style and the color of the boot.
Knee High Boots With Winter Outfits:
Finally, winter outfits are great with knee-high boots as well. Though there are specific fur and wide calf boots made especially for winter clothes, they can also be matched with other summer-specific boots, as long as they feel comfortable for you.
Knee High Boots With Coats:
Coats are more like an accessory for the other mentioned outfits on this list. Hence, if a coat, be it a trench coat, or any other coat could be matched with the other outfits mentioned above, rest assured, it can be paired with a knee-high boot as well.
The Dream Pairs Shoes For Female Footwear Fashion:
The first problem many first time buyers face is the constant struggle to find a reliable and affordable vendor. If you are stuck in such a situation, look into knee high boots from Dream Pairs Shoes collection. They are one of the most affordable yet quality sellers in the market. What Dream Pairs offers to female footwear fashion is more than just quality products. They have studied their ideal customers and have come up with products with a variety of price ranges, especially in the Knee High Boot category.
In addition, look into some of their other products too. Given the fact that Dream Pairs has one of the best quality collections of female footwear, it is more than likely you will find something you might love.
Conclusion:
To conclude, knee-high boots, just like over-the-knee-high boots are a great choice for many outfits. The former, being slightly more affordable and easily accessible for various sizes than the latter. The choice between both the boots finally comes down to personal preference. In addition, make sure to try other outfits not mentioned in this article with your desired boots as well. Also, have a look at Dream Pairs for knee-high boots that match with all the outfits mentioned in this article.