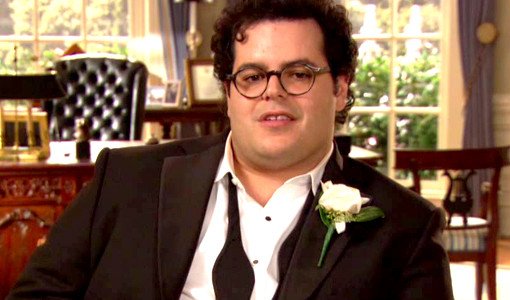 Josh Gad has a busy year ahead of him. The former costar of the Broadway musical The Book of Mormon — he was nominated for a Tony Award — costars with Vince Vaughn and Owen Wilson in The Internship. He also plays Steve Wozniak in Jobs, lends his voice to a Disney film, and films Zach Braff's Kickstarter-funded film, Wish I Was Here. Oh, and he's also in the process of writing the sequel to 1988's Twins. (Seriously.)
We talked to Gad while he was in Los Angeles doing promotion for The Internship. And yes, he does have a story about being a terrible intern.
The Internship was filmed at Google's campus, the storied Googleplex. Is it as cool as everyone says?
The place is like Disneyland for employees — it's conducive to joy. I get why everyone and their mother wants to work at Google. I don't know of an investment bank that has a giant slide in it.
Vince Vaughn and Owen Wilson reportedly do a lot of improv in movies. Was that your experience?
Yeah, we were able and encouraged to improv, and a lot of it made the film. Shawn Levy is an amazing director when it comes to letting actors play, and I had two of the greatest playmates to work with.
Had you done improv before?
I took some classes with [famed Los Angeles improv troupe] The Groundlings, but they said I wasn't good enough to move to the next level of classes. Well, two years after I got rejected, I was hired at The Daily Show. The Groundlings then called me and said, "Congratulations, you've made the third level!" Which is basically an invite to pay them $600. I was like, "Oh, I wish I could do it, but I have to go do a show on TV called The Daily Show."
Were you ever an —
I'm a little insulted you haven't noticed my new look.
Um … new tie?
No, my coif. Onscreen, this is the Summer of the Neanderthal for me, because I played [Steve] Wozniak in Jobs and Headphones in The Internship. But in real life, I have this clean-cut look courtesy of AXE Hair with some AXE Clean Cut Look pomade, and now I'm like a chubby Jon Hamm.
You look very, very nice, Josh. Were you ever an intern?
Yes, at an ad agency. I was told to come up with a slogan for a company called Telemattress. About two weeks after I got the assignment I hadn't given them anything. So I walked into the boss's office, and said … "If you're tired, tell a mattress." I was escorted out of the office and fired.
If you're the boss, is sex with interns okay?
I am happily married with a kid, but theoretically, in another world, absolutely. Who wouldn't want to?
When you leave an acting job, do you keep in touch with a lot of your castmates? Or is it the same as when you leave other jobs and you rarely interact once you move on?
Whether it was like Love and Other Drugs where I met two of my close finds now — Jake Gyllenhaal and Anne Hathaway — or Interns where I met Vince and Owen, there will always been that friendly camaraderie. Whether or not we have dinner every night is another story, but there's the joy of what that was. With The Book or Mormon I was with that group for the better part of four years. That was tough; it's like leaving your family.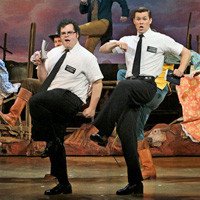 Speaking of The Book or Mormon, do people stop you on the street and ask you to sing?
I do get that, yes.
How annoying is that?
I just kick them in the nuts. If they don't have nuts, I kick them in the lady parts. Okay, I generally don't do that because I'll get fined, but it's an amazing honor to be recognized for something that was done in front of 1,100 people in a dark theater. The camera allows you to be plastered on a 50-foot screen, but to be recognized for something theatrical is the be-all, end-all.
You're going to be in Zach Braff's Kickstarter movie, Wish I Was Here. He's caught a lot of heat for using Kickstarter to finance it; did that affect your attitude toward the movie?
I signed on because I fell in love with script and thought it was an incredible story. The Kickstarter part of it has nothing to do with me. I think it's amazing that fans are willing to take part in filmmaking. Nobody's forcing people to invest in this movie, they do so because they want to.
You tweet like a maniac during NBA games. Are you a big basketball fan or a big sports fan in general?
I'm a huge Miami Heat fan. I went to the first Heat game ever against the Tel Aviv Maccabees. I'm also a huge Dolphins fan and I used to be big into baseball before the Marlins … well, I won't go into that.
Do you bet on sports?
That's really none of your business! … I occasionally I bet on sports.
LeBron or Jordan?
History speaks to Jordan, so I will go with that. But LeBron is on his way to being something really special.
You were involved in nearly every aspect of the NBC series 1600 Penn, right?
Yes, which is why it failed.
But you got a show on network TV. So in a way, do you view it as a success?
I felt good about what we created, and that's all you can hope for. Especially in the age of the comeback, where shows like Arrested Development or Veronica Mars get a second life, I don't think you can close the door on anything. 1600 Penn was a remarkable moment that I'll never forget, and there will always be a sliver of hope that we'll have a reunion down the road.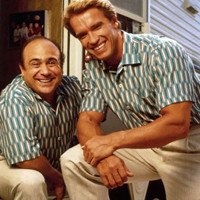 And you're writing the sequel to Twins?
It's called Triplets. There's always joy in doing the unknown and taking on the challenges you don't think possible and seeing them through.
Yeah, yeah, yeah. But Twins! Arnold! Danny DeVito! How's it going?
The first draft is finished and we're getting ready to hand it in to the studio. [My writing partner] Ryan Dickson and I watched Twins ad nauseum and had fun creating those voices again for Danny, Arnold, and now hopefully Eddie Murphy. It's an amazing opportunity that you get to write for people you grew up idolizing.