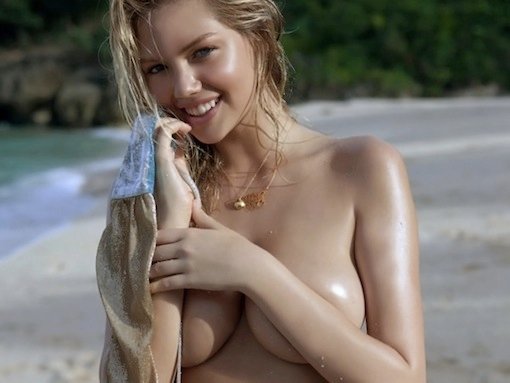 Oh, have you heard of Kate Upton? She's the young lady pictured above. You may have seen her on the cover of this year's Sports Illustrated swimsuit issue, or in the movie The Three Stooges, or playing the role of Nurse Chapel in the erotic Star Trek fan fiction you write. In a nutshell, she's pretty much everywhere these days.
And we were lucky enough to sit down with the beautiful 20 year old during the recent AXE Sports Blast Challenge in Manhattan. The New York Football Giants' Jason Pierre-Paul was there as well, which was cool, but … c'mon. Kate Upton!
AXE has some hot ad campaigns, but can body wash be sexy?
I like men's body washes. I like the way they smell.
Duly noted. You went from high-school student to the cover of the Sports Illustrated swimsuit issue pretty fast. How weird was that?
It's amazing, but it's not like it happened overnight. I presented my parents with a five-year plan to see if modeling would work out; it'll be five years ago next month since I did that. So there's a lot of build-up to trying to reach the next step. It's not something that just happens.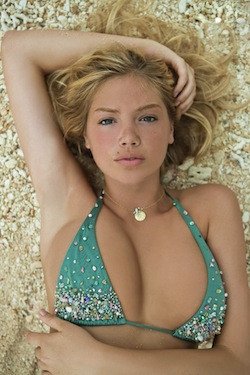 Sure, but there are plenty of people who don't reach the arguable pinnacle of their profession by the time they're 20.
I was very focused at a very young age. There are people who are going to ride you out and push you away, and you have to stay on track.
So your five-year plan included being a Sports Illustrated swimsuit model?
The thing I really took from my time riding horses is that it's all a competition, but really you're only competing against yourself. It's me trying to be the best I could be. But yes, one of my goals from the beginning was to be in Sports Illustrated.
Pretty lofty goal for a 15 year old.
I had a curvy body at 15, and in Miami, everything is about bathing suits. So I was always very comfortable in them. There are not a lot of people who can handle starting at such a young age, but I knew I could do it.
Tonight you competed against Jason Pierre-Paul in a series of physical challenges. You also rode horses a lot as a kid. So who's tougher to handle, a 280 lb. NFL defensive end or an 800 lb. horse?
My horse is 1,300 lbs., and he is definitely harder. Going up against a horse, it's a case of mutual trust. He has to trust you and you have to trust him. So Jason was easy!
There was a scene in The Three Stooges preview in which you climb out of a pool dressed as a sexy nun. That really worked for us. What are your pool-exiting secrets?
There are so many cameras on you in scenes like those, so I think of it like a photo shoot. I move so the cameras can catch the sexy.
Uh, they did. But it's weird the shot was only in the previews, not the movie.
They told us from the beginning the shot of me coming out of the water would just be used for promotions, so we knew that in advance.
Are you going to keep acting?
I definitely want to focus on the modeling, I think I haven't yet reached my full potential there. In terms of acting, I'm picky.
You mean you don't want to be "the sexy girl" — or nun — anymore?
I want to be the best and give the best that I can offer. If it's the sexy girl role, so be it, but not just because it's that role.