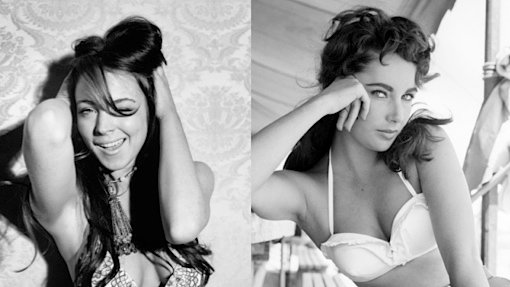 It's official: Lindsay Lohan will definitely be playing legendary actress Elizabeth Taylor in a Lifetime Original Movie you will almost certainly not watch. She'll be the most insured actress "ever to walk across a soundstage" according to a Lifetime producer — in other words, the network is rightly nervous that Lindsay will melt down and sink the entire production.
Anyway, depending on how old you are, you may know Liz Taylor only as a bloated older lady who hung out with Michael Jackson a lot. But in her younger days she was legendary for her acting chops, her beauty (see picture, above right), and her wild life. Lindsay Lindsay can relate to at least one of those three things, but how does she stack up to Taylor overall?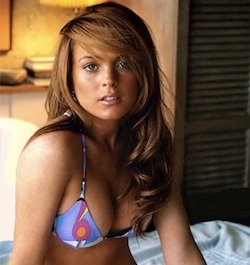 CHILDHOOD
Liz: Was going to screen test for Gone with the Wind at age four, but her mother didn't believe in child actors.
Lindz: Began modeling at age 3 because her mother believed very, very very strongly in child meal tickets actors.
BIG-SCREEN DEBUTS
Liz: Appeared in There's One Born Every Minute at age 9 before being fired because the studio thought she looked too old.
Lindz: At age 11, played dual roles in The Parent Trap sporting a face full of girlish freckles. "She's so adorable — this wholesome kid is clearly gonna go far!" —anyone who had never met Lindsay's parents
BIG HITS
Liz: Cat on a Hot Tin Roof, Giant, Who's Afraid of Virginia Woolf?
Lindz: Mean Girls, Freaky Friday, several parked cars and pedestrians throughout the greater Los Angeles area
ROMANCE
Liz: She was married eight times; husbands included hotel heir Conrad Hilton, actor Richard Burton (twice), and Princess Leia's dad Eddie Fisher.
Lindz: Do you have rent money? Cuz if so, she's free Friday night …
SCANDALS
Liz: Got divorced six times, had affairs, drank plenty, did drugs, pissed off the Pope — basically, she sounds like a pretty awesome broad
Lindz: She hasn't murdered anyone (as far as we know), but she's done pretty much everything else
NOTABLE COLORING
Liz: Had violet eyes
Lindz: Nicknamed "fire crotch" for a reason
DESIRABILITY
Liz: Pretty much anyone old enough to remember the Kennedy administration will tell you Liz Taylor was the hottest woman in the universe
Lindz: Was smoking in the mid-oughts … before she started aging like a vampire exposed to sunlight