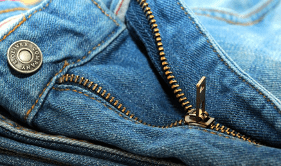 These days, functional workwear pieces are even more popular among men who want to rock the rugged lumbersexual look, or simply buy some understated but durable clothes that will last — and stand up to hunting, fishing, yardwork, hobby mechanics, and other traditionally masculine activities. Even if you never plan to leave the city, workwear pieces can form an attractive and long-lasting part of your wardrobe. Here's how to embrace the trend.
Choose a Relaxed Fit
You wouldn't get very far working on the docks or in the mines in a pair of tight skinny jeans. Men's workwear has traditionally been cut in relaxed fits that allow laborers to have a full range of motion.
More than that, the fit of many classic workwear styles has been carefully calibrated to give each piece a level of function specific to its purpose. For example, fisherman's trousers have a wide-leg fit that allows fishermen to roll the pants up in order to wade into the water. Outwear has snug storm cuffs and collars to keep out cold breezes while you're working outside in the cold and wet. Choose men's workwear pieces that are fit for purpose.
Go for Classic, Durable Fabrics
The fabrics traditionally used in workwear, like flannel, raw and selvage denim, cotton drill, flannel, chambray, wool, waxed cotton, and linen, were all chosen for their durability. These are understated fabrics that accumulate character over time, wear well, and eschew the glossiness of modern urban life. These are the fabrics that will last the longest, whether you wear your workwear pieces to an office job or a manual labor one. And they tend to come in neutral shades like sand and khaki, navy, green, and brown. These are traditionally masculine colors that contribute to a rugged look, but can also serve as an effective backdrop for brighter, more colorful formal pieces and accessories.
Put Function Above Form
Function has always been the priority for men who buy men's workwear pieces for their labor-intensive jobs. For example, chore jackets offer a straight cut that accommodates layering with flannels, hoodies, or sturdy knits; snug storm cuffs and a collar that can be flipped up against the weather; buttons that fasten all the way up to the neck; and flap pockets that keep their contents in place.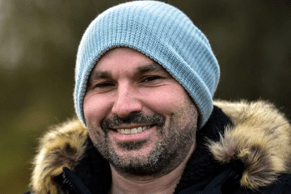 A beanie keeps your head warm when you're working outside in the cold, and your hair out of your eyes when you're working on cars or doing other precision work, but doesn't have a brim that could potentially get in your way.
Mix and Match with Workwear Pieces
When it comes to wearing workwear pieces stylishly, you want to avoid dressing head-to-toe in workwear pieces — unless you're actually going to work. A pair of work boots matched with thick, selvage denim workwear trousers, a flannel or chambray shirt, a chore jacket, and a beanie won't make you look rugged so much as it will make people think you actually are a dock worker.
Of course, if head-to-toe workwear is your style, far be it from us to tell you any different. But for most men who just want to add a little bit of a rugged, outdoorsy edge to their normal urban wardrobe, mixing and matching with more formal pieces is the way to go. Pair your rugged selvage jeans with Oxford shoes, a button-down shirt, and a more formal blazer. Pair your denim and chambray shirts with a blazer, or your workwear vest and flannel with a pair of chinos. Workwear boots can be great for winter footwear — many styles look perfectly alright with chinos, khakis, or slacks and a sweater.
Workwear pieces are a great way to add functionality to your wardrobe while embracing the rugged, outdoorsy look that's so popular for men today. Even if you're not the outdoorsy type, workwear pieces are comfortable, durable, and timeless. Add some to your wardrobe today, and find out why men's workwear has gotten so popular for casual everyday wear.