There are a lot of reasons why you may not want to get your clothes professionally tailored. It can be costly. It can be time consuming. You have a debilitating fear of measuring tape. Thing is, clothing that's tailored specifically for you really does fit much better than stuff you buy off the rack, and that can make a huge difference when you're trying to impress someone — whether it be your boss or your date. So the trick is to look like you've been to a tailor without actually bothering to do so. With these simple strategies, you can achieve a bespoke look without changing a stitch.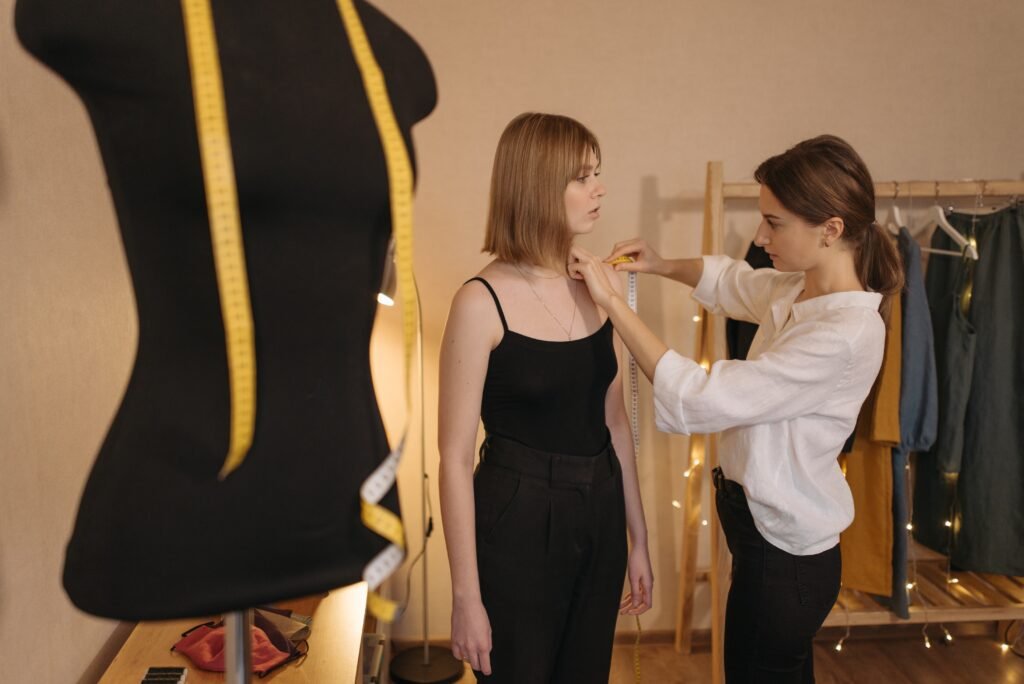 1. KNOW YOUR SIZE AND MEASUREMENTS
Having your exact measurements on hand goes a long way toward attaining a polished look — especially when you're shopping online. You can try to measure yourself, but chances are you'll completely screw that up. So instead, find a store that'll measure you for free; Men's Wearhouse is one, but there are many others. (Even though the service is free, it never hurts to tip the guy measuring you.) At the bare minimum, you'll want to know your inseam, hip, chest, neck, and sleeve lengths. Memorize this information, or, even better, store it in your phone so you always have it on hand. Oh, and be honest with yourself about any weight you may have gained since you were measured last; wearing pants with a too-small waist ends up making you look fatter, not slimmer.
2. FIND THE RIGHT CUTS AND FABRICS
There's never been a better time to achieve a tailored look without a tailor, since so many men's stores today carry different cuts of shirts, jackets, pants, and even jeans. Generally speaking, you want to wear clothing cut so that it fits you snugly enough that there isn't a bunch of extra, billowy fabric — but not so snugly that you look like you shrink-wrapped yourself. Larger guys often think that loose clothing has a slenderizing effect because it hides their flab, but too-big clothing actually makes hefty guys look tubbier. They're not the only ones who make that mistake; most guys wear clothes that are too baggy, which makes them look sloppy — and as though they raided Dad's closet. Nowadays mens online stores have created clothing to avoid this overall bagginess in off the rack dress shirts. Like Tapered Menswear, who have created shirts that fit the body like a tailor would but off the rack. Which are particularly useful if you have a muscular physique. You can find them here. So you don't need to size down just to try and find the right shirt fit for your body. Stretch fabrics, which can be found in everything from jeans to dress shirts, can also be very helpful in this regard.
3. WORK WITH EXPERTS
Chain retail stores are upping their game, providing high-end service at a fraction of the price. At J. Crew, for instance, full-time stylists are on hand who'll help you find cuts and styles of clothes that work best for your body. Plus, once they know what you're looking for, they'll alert you when new clothes come in that they think you'd be into. And that'll make the process of shopping for clothes that much less of a pain.
4. CHEAT AND USE A TAILOR … SORT OF
Hall & Madden (hallmadden.com) makes shopping for a dress shirt about as easy as it can be. You give them your measurements, and they send you three high-quality dress shirts every three, four, or six months. (The shirts are $50 each; in stores, they'd be $150 and up.) The brains behind Hall & Madden also run Prosper Suit, an excellent made to measure service with little stress and, owing to their lack of physical stores, a very low price tag. Visit a fit specialist to get sized and make your customized selections. The suit is ready in four to six weeks and Prosper keeps your sizing on file to make your next order even easier. It's a simple fact that every man should have a custom suit once in his life.
5. TRY BODY SHAPERS
Okay, this may sound like the nuclear option, but body shapers aren't made just for women any more. Companies like Spanx are producing undershirts, briefs, and other compression undergarments that can nearly eliminate love handles and guts. And it's a simple fact that a streamlined body makes a huge difference in the way your clothes fit; it's why male models aren't generally dudes with guts.
6. CHOOSE THE RIGHT CLOTHES
Don't you have time to visit the tailoring shop? The good news is that you can shop for men's complete wardrobe online, designed and made by expert fashion designers and tailors. By doing so, you'll save time, effort, and money buying suits, leather shoes, and other men's accessories online.
Choose the right pieces using your smartphone or any internet-capable mobile device quickly and easily. Many dedicated men's online stores offer elevated suits, blazers, slacks, and accessories to set men apart at any special event or celebration. Most of these online stores provide measurement tools or guides to help customers determine the right size of the suit, sweater, or coat for them.
Now you can become occasion ready without worrying about visiting an actual tailor and be at your best look during a semi-formal or formal event. Whether you're looking for a textured linen wool blazer or a modern tuxedo jacket, you can buy the perfect clothes for you online, such as CALIBRE.
Takeaway
It's possible to make clothes fit perfectly without a tailor by applying the tips shared above. Remember to keep in mind the quality of the fabric and craftsmanship, ensuring the right size or measurement with the help of online tools and guides. By wearing a perfect men's outfit, you'll look more good-looking, confident, and comfortable during an event. Now you're ready to impress everyone by becoming a sharp dressed man.