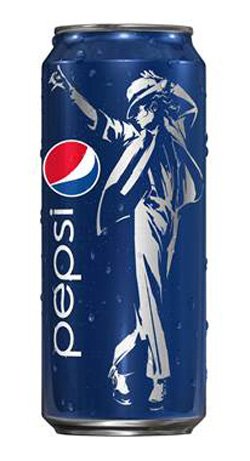 How do you think a multi-billion dollar company like PepsiCo would choose to honor the late Michael Jackson? Erect a life-sized statue? Offer free lessons on how to moonwalk properly? Offer a free MJ hologram concert? Nah.
Pepsi and Jackson's estate have struck a deal to exploit his 2009 death use various images of Jackson striking some of his most famous poses (sans the crotch grabbing, we presume) on one billion of their soft drinks cans. Now adoring fans of the King of Pop have something to spend money on again!
This isn't the first time the two have done business together. Jackson's history with Pepsi dates back to the 1980s when he was a pitchman for the brand. The company sponsored his '88 "Bad" tour, and he even received an impromptu and unwanted hairstyle change when his coif caught on fire while he was filming of a Pepsi commercial in '84.
Pepsi is calling their latest venture with Jackson a reunion tour. What they are most certainly not calling it a desperate marketing gimmick to earn cash off of Jackson's name. Look for the MJ cans on shelves later this month.