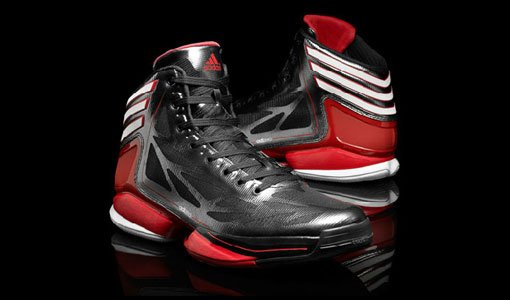 As I stood mid-court at the Los Angeles Clippers practice facility waiting for tip-off, I was experiencing more than a little anxiety. I hadn't played a pickup basketball game for eight months, so I feared my ball handling would be clumsy, my shot would be off, and my breakfast would be spewed all over the floor after a few trips up and down the court. Sure enough, I botched crossovers and launched air balls, though I did manage to keep down my eggs despite my red-faced wheezing. The only thing that performed well was my shoes.
I was sullying Blake Griffin's digs because Adidas had invited me to test their newest shoe, the adizero Crazy Light 2. At 9.5 oz., the shoe is billed as the lightest basketball sneaker in the world. Checking out my pair before the game, I assumed the designers must have sacrificed comfort and stability for style and weight — or lack thereof. But amazingly, that wasn't the case. Once on and laced up, the sneakers reminded me of wrestling shoes, as if a pair of lightweight slippers were hugging my feet. On the court during the game, they provided the type of heel and ankle support you'd expect from a more substantial basketball shoe. According to Adidas, that's because the Crazy Light 2s utilize Sprintframe and Sprintweb technology, which offers great lateral and horizontal support.
The $140 Crazy Light 2s go on sale May 24 and will be available in five color combos. Just one piece of advice: Don't count on them to improve your game.