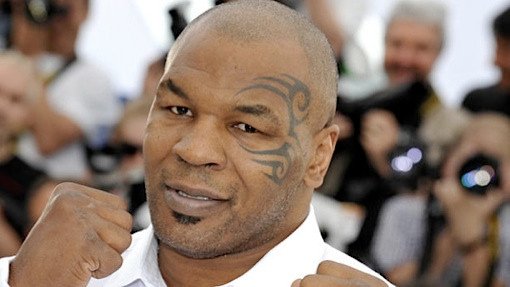 Attention boxing fans and Broadway theater lovers! Former heavyweight champ and current cameo-maker Mike Tyson is taking his one-man show, Mike Tyson: Undisputed Truth, from Las Vegas to New York. And that's not all — film director and humble Knicks fan Spike Lee has said he's going to be "involved" with the Broadway production. "Involved" can mean many things, but rumor has is that Lee is going to direct it. And we're hoping that means Lee will turn the show into the greatest spectacle Broadway has ever seen. Currently, the show simply features Tyson discussing his life with the aid of photos and video, but we predict a few additions to the production:
• Since Tyson isn't even licensed to shadow-box in the state of New York, he'll be beating the sh!t out of an actor playing Frank Bruno instead of beating the sh!t out of the actual Frank Bruno, as he did every night in Vegas.
• Michael Spinks will greet theater goers at the door.
• Lee will reprise his Mars Blackmon character, to the delight of like four people who sorta remember those Nike commercials from the '80s.
• For Sunday matinee shows, the part of Mike Tyson will be played by his understudy, Floyd Mayweather. Related: Manny Pacquiao will not be allowed to attend the show on Sundays.
• Tyson will be throwing a lot of garbage cans.
• During intermission, audience members will be able to purchase cupcakes in the shape of human ears.
• An actor playing Spider-Man will descend on wires from the theater's rafters onto the stage. There, Tyson will knock him out with a single punch while U2's "One" plays.
• The audience will be invited onto the stage to arm-wrestle Tyson for money.
• At the end of the show's run, Mel Brooks will reveal that the entire show was actually the show-within-a-show of his new show, The Producers 2: The Show Must Go On.
(Check out some insane photos of Mike Tyson's old mansion.)