Maybe you're tired of cleaning soap scum off your shower walls. Maybe your girlfriend has dropped a few hints that she'd like you to use a manly-smelling shower gel. Maybe you just wanna smell like the Old Spice guy, sans horse. If you're looking to get rid of the soggy bar of soap that has been sitting in your shower for months, check out our guide to the best body wash for men.
Best Body Wash For Men
Keep your body moisturized all day long with this enriching body wash for men. Using authentic Shea butter extract, this advanced body wash invigorates the skin, making it supple and smooth throughout the day. Forget the irritation most body washes cause and choose Irish Spring.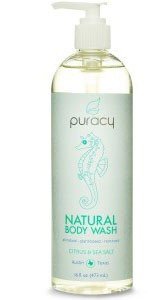 #2. Puracy 100% Natural Body Wash ($24 for two @ Amazon.com)

For ultra-smooth and hydrated skin, this body wash contains a luxurious blend of gentle cleansers and essential oils. The Pink Himalayan Sea Salt will buff away dead skin cells, unveiling soft, radiant skin, while plant and mineral-based ingredients help hydrate and balance your skin. After a long day, there's no better way to feel refreshed.