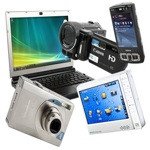 Gadgets make great gifts and splurges for men that love their technology, and there always seems to be a new product that comes out every single week. How to keep up with it all? Check out this guide to the best gadgets for men: there's something for everyone here, from the latest workout technology to other cool gear that will make your life that much more interesting.
Addicted to working out? Then the Fitbit One ($100) might be just the right thing for you. This small fitness device conveniently clips onto clothing and helps keep track of your daily activities, monitoring everything from calories burned to steps taken. Added bonus: you can access all this data online at Fitbit.com and analyze your activity trends. With a rechargeable battery that lasts up to one week on a single charge, this is definitely one of the best gadgets for men on the market.
The Clicker Bottle Open Universal Remote ($13) is an affordable and entertaining gadget. It is programmed with more than 800 factory pre-sets, includes a built-in bottle opener for those Super Bowl marathons, and it can control up to eight devices in your house. It is compatible with most major cable and satellite dish boxes, making it one of the more affordable and best gadgets for men.
If music is your thing, then the Audio Technica ATH-ANC9 Headphones ($297) are guaranteed not to disappoint. The soft, faux-leather memory foam ear pads offer a comfy and secure fit, and the excellent design paired with the captured sound makes these a great accessory for even the most picky headphone enthusiast.