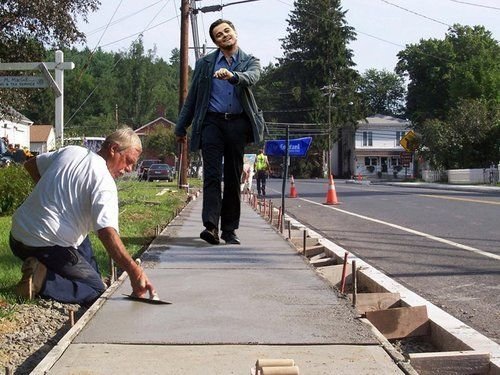 Best Walking Shoes For Guys
Whether you're headed down the driveway to the mailbox, on a jaunt around the neighborhood, or to your local watering hole, you're going to want a comfortable men's walking shoe strapped to your feet that A) can withstand trekking on concrete or cobblestone streets without falling apart; B) doesn't make you feel like you have the bloated hooves of a pregnant swine; and C) won't obliterate your toes, heels, or ankles if you do happen to use them to jog or run. 

What to Look for in a The Best Walking Shoes For Men
"The key to a great walking shoe is a shoe that allows the foot to function as it was designed to walk—heel-to-big-toe," explains Galahad Clark, founder and managing director of VIVOBAREFOOT. "First, look for a round (foot-shaped) heel, so that your heel can roll onto the ground and stroke it rather than a heel 'strike'—which is almost impossible to avoid in padded and/or right angled heeled shoes. Also, look for a shoe that allows for full flexibility in your foot so you can easily move through the natural axis of movement from heel to big toe—the big toe acts as the body's anchor and pivot point, so it's important that it touches the ground. The last vital component is a thin sole so the thousands of nerve endings can accurately communicate with the brain."
Beyond that, it depends on the terrain you're planning to walk. "If you're hiking, then a pick a shoe with good grip and ankle protection," explains Clark, who recommends the VIVOBAREFOOT Tracker ($215, pictured left). "If you're talking about urban environments, then the less shoe the better (we recommend either the Gobi or the new Primus Lux and the Primus Trio).
Make Your Walking Shoes Last
"The needs of your shoes depends on what materials they are made out of," Clark says. "If it's leather, then a regular waxing with a quality leather wax (or just regular coconut oil) will prolong the life, make them weather-proof, and enhance the look and feel over time.
Take a look at some of the other best and most comfortable walking shoes for men that we've rounded up. Some aren't cheap and will run you upwards of $100. No, we're not trying to break your budget, but we think it makes sense to pony up when it comes to buying quality walking shoes. If you've ever been out and about for hours at a clip with shoes that feel like concrete blocks, you know what we're talking about.
#1. truWALKzero Men's Touring T-toe
Rockport steps boldly into the realm of fashion with their new truWALKzero Men's Touring T-toe ($100 @ Amazon.com). Combining Rockport's proven comfort technology with an edgy design, this is perfect for guys looking to combine casual fashion and comfort in their walking routine.
#2. Nike LunarTempo
Nike's breathable, mesh Nike LunarTempo ($120 and up @ Amazon.com) with Lunarlon foam provides comfort and swiftness on short walks around the neighborhood or long runs. The carbon rubber and waffle-shaped tread give your shoes durability and traction, while the Flywire cables mold snug to your foot.