When you give a woman underwear she likes, it has a powerful effect. Specifically, it makes her want to have sex with you. Hot sex. And lots of it.
But keep in mind I said underwear she likes. It needs to be the right style, the right size, and the right color. It needs to come at the correct point in the relationship. And it needs to be given on an appropriate occasion. (Think her birthday is appropriate? Read on.) Mess up any of that, and you're going to have one annoyed, self-conscious, and/or weirded-out lady on your hands.
It may sound complicated, but all you really need to do is follow a few simple pieces of advice in order to get major relationship points — and all that sex I mentioned.
CHOOSE THE RIGHT TIME

There's really only one hard-and-fast rule about the right point in a relationship to get lingerie for a woman: You can only do it after you've slept with her. Do it any sooner and the perv alert will instantly go off in her head. But that's not the only thing that you have to keep in mind.
How long you should wait after you've had sex depends on the woman in question, according to Amanda Horan Kennedy, psychotherapist, and CEO of the lingerie line Sassybax. "If you've noticed that she always wears matching bra and panties, she'll probably appreciate the gift early in the relationship."
If, however, she tends to wear whatever happens to be clean (if she doesn't even worry about it being clean, you're gonna have worse problems than figuring out how to buy her underwear), wait at least a month. That way she won't think you're being critical of her current underwear selection or trying to turn her into someone she's not.
And whatever you do, avoid giving her underthings on her birthday. "For a birthday, she wants something she can show off to her friends," Kennedy says. "Plus, lingerie is as much a gift to the giver as it is to the recipient, so don't make her special day about you." All other occasions— New Year's Eve, Valentine's Day, Secretary's Day — are game on.
DON'T BE CREEPY
You may feel sleazy when you're surrounded by lingerie in a store. Well, that's probably because you look sleazy surrounded by lingerie in a store. If you're self-conscious about it, you may skulk around, avoid eye contact, and refuse help. But it's not like you're there to buy something for yourself or to eyeball the mannequins … uh, right? … so there's no reason to feel weird. That's why you should walk right up to a sales associate and say, "I'm looking for something for my girlfriend/wife." She'll take it from there.
Before you hit the mall, you need to figure out your lady's size. The best way is to check the tags on pieces she already owns. "When in doubt, go larger than you think she is in the bra and smaller in the panty," Kennedy suggests. Most women would rather believe you imagine they're better endowed in the chest and more petite in the ass.
Just don't use the person helping you as a size reference: "Her boobs are about as big as yours — what size are you?" The only thing creepier than a guy who keeps to himself in a lingerie store is a guy who flirts with the saleswoman.
And if you're totally incapable of keeping it together in a Victoria's Secret, then forego the help of the sales staff, shop online, and be as creepy as you like.
FIT THE STYLE TO HER PERSONALITY

It's been scientifically proven that men are incapable of distinguishing trashy from sexy, so please, please don't go with your instincts when it comes to picking out underthings and buy those crotchless panties and tasseled bra.
Instead, take her personality and personal style into consideration before choosing what to purchase. No clue what that means? Luckily, we have a handy little guide for you.
If she's a jeans and t-shirts kind of girl: Stick with simple and elegant like a lace boyshort and matching camisole. (Don't worry, the salesperson will know what all that means.) A set like this can basically double as pajamas, so a woman who's never worn lingerie before won't feel silly and uncomfortable.
If she's wild in the bedroom: Got a sexpot on your hands? Get her something costume-y like a corset, thong, and garters. Just don't get her an actual costume. Whips, cat ears, French maid aprons — these are the things that ruin what could have been a nice gift. (And besides, she'll dress like that next Halloween anyway.)
Oh, and only buy pieces with lots of hooks, clasps, ties, and buttons if you're willing — and able — to undo them all.
If she's shy or self-conscious about her body: When buying underwear for the little lady, your first instinct may be to get whatever is the most revealing. Well, if she's shy, ignore that instinct and instead get a sheer teddy and full-coverage underwear.
Women find it really difficult to get in the mood when they're worried about how they look, so opting for something conservative — we're talking in relative terms here — will actually work in your favor.
If you have no idea what she's like: Hey, F-buddies enjoy gifts too. A silk or sateen balconette bra and a matching thong or brief are a sure thing. And even the low-end ones look luxe.
Look for one with minimal detailing — like a few bows or some lace trim.
DON'T GET NUDE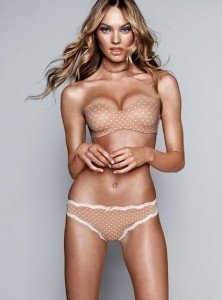 "Nude is the most popular color of intimate apparel a woman buys herself," Kennedy says. "So avoid giving that color as a gift." It feels too practical and everyday. Plus, you run the risk of her thinking it's shapewear (the modern day version of girdles) and getting offended.
Oh, and in case you haven't noticed, flesh-colored undies also tend to turn women into mannequin-like genital-less beings. And you do not think that's sexy … I hope.
BE CAREFUL WITH PASTELS
You're going to see a lot of light shades on your shopping trip. It's OK to go with a pale pink or a sky blue, but only in solids. Light colors in patterns — like flowers or polka dots — can look too little-girly. Take a look at this site called EBY for some ideas.
SPEND MONEY ON RED
Many women love red or hot-pink — especially on Valentine's Day — but be warned: If you're not buying high-end stuff, lingerie in those colors can easily look cheap and tacky once it's on.
So skip the mall and try a boutique, where everything will be of higher quality and save you from sending her a message that you want her to look trashy.
WHEN IN DOUBT, BET ON BLACK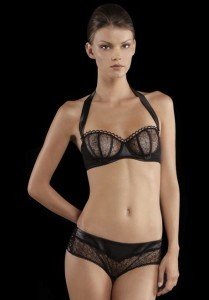 It's flattering next to all skin tones, it's slimming, and it's always classic while remaining sexy. Bottom line: It'll look good wrapped in tissue paper when you present it, it'll look good on her, and it'll look good in a heap on the floor next to the bed.



THINK OUTSIDE THE BOX
You don't have to stick with traditional lingerie options when shopping for your partner or yourself. There are tons of unique pieces out there that are sure to add excitement into the bedroom! Consider purchasing something unexpected such as mesh bodysuits, cut-outs, bralettes, or even leather harnesses if that's something that appeals to both of you. Don't be afraid to experiment with different materials and designs – this is one area where it pays off to think outside the box!