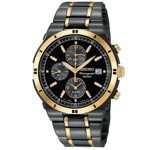 For men, watches are the ultimate form of bling. Rolex. Patek Philippe. Cartier. The names alone reek of opulence and luxury. If you're looking to wear success on your wrist, you've come to the right place. We've created the ultimate wish list of the best watches for men.  Telling time never looked so good.
Also: Awesome Men's Watches For Under $400
Rolexes are like the Ferraris of watches. Everybody knows about them and everybody wishes they had one (or several). If you're a fan of the finer things in life, such as yachts, then look no further. Rolex's Yacht Master II ($11,720) was designed to meet the needs of professional sailors and includes a patented programmable countdown and mechanical memory, ensuring perfect synchronization on your next boating adventure. With a stunning blue Cerachrom disc, this stunner is one of the best watches for men as well as the perfect accessory to help you sail in style.
NEXT: CARTIER