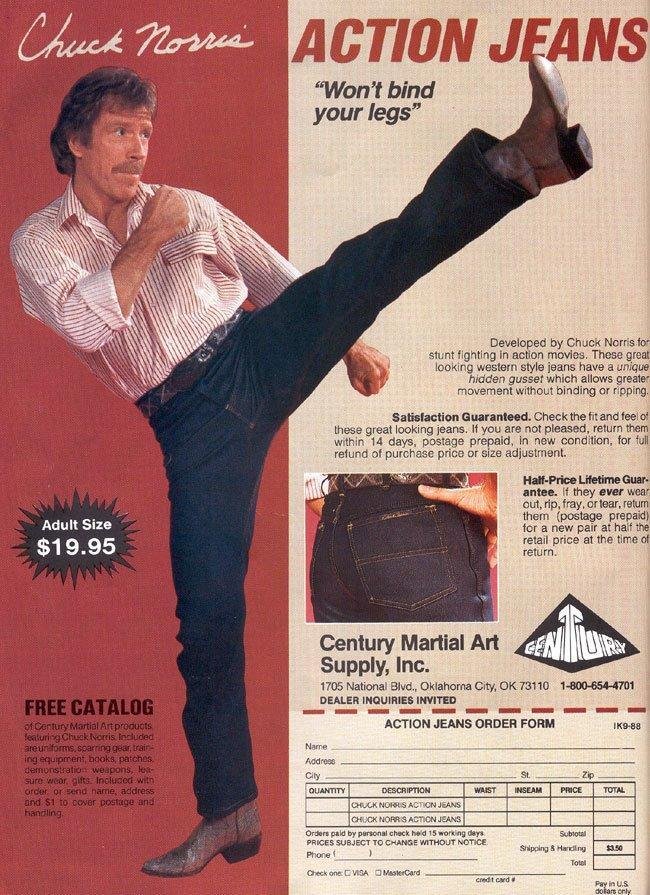 To purchase the best jeans for your body type you need to know what the different jeans styles mean:
Straight cut
The most common and versatile, this style creates a straight line from waist to ankles; it's suitable both for casual wear and when you want to go slightly dressier. It should fit all body types, including guys who are packing a few extra pounds.
Relaxed Fit
Made for heavier guys who have wider legs to provide maximum comfort, this style of men's jeans also looks great on athletic body type (aka slightly built, not like Arnold Schwarzenegger in Pumping Iron); however, guys with an average build or who have no ass and chicken legs should avoid these. You'll look sloppy or like you're carrying a load in your pants.
Athletic Cut
Designed especially for athletic guys, closely fitting waist and seat area, and providing enough space for large legs (glutes, quads, and hamstrings). That said, guys with average builds can fit into them as well.
Skinny jeans
They feature tight fit all over the waist and are perfect for skinny dudes with pelican legs. Average guys may find the lack of mobility uncomfortable.
Lucky 181 ($59 – $89 @ Amazon.com)
They're a simple straight leg cut with medium rise looks especially good on athletic figures. Slightly sanded wash for a retro flair. Above all, Lucky produces some super comfy jeans.
H&M Straight Regular Jeans, ($40 @ Hm.com)
These are a safe play for day and night occasions. Pair it with casual shoes or sneakers, throw a quality shirt and you got perfectly styled in no time.
Lee Men's Premium Select Classic-Fit Straight-Leg Jean ($29 – $50 @ Amazon.com)
It's a combo of a classic cut with modern features: the straight line visually elongates your figure and solid crosshatching material contains 1% of spandex, for additional softness and elasticity.
Barbell Jeans ($149 @ barbellapparel.com)
These are the best jeans for gym rats. Yes, they're pricey, but you don't down all those protein shakes and not get gigantic tree trunk legs. Made of hybrid denim, with high tensile-strength stitching, these jeans adjust to your body and movements, giving you more freedom and comfort. Other styles available.
Calvin Klein Jeans Men's Slim Straight Jean ($13-$98 @ Amazon.com)
Nothing flashy here: a straight-leg cut with a low rise and ready-made rips, perfect for hanging in a pub. Two percent of spandex in fabric blend create a durable and pleasantly soft pair of men's jeans.
Tommy Bahama 'Coastal Island' Standard Fit Jeans ($49 @ nordstrom.com)
These uniform-like jeans are among the best pants for men in their price range. Classy ring spun denim and serious indigo hue make them handy dress up piece. Resembling uniform by cut, with discreet whiskering and relaxed through the seat. A cotton-tencel blend (tencel is a fiber made of wood pulp) makes it less prone to wrinkles and provides additional breathability.