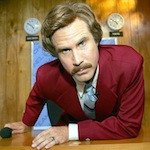 Though they've long been associated with the '70s, mustaches are making a major comeback in pop culture. Are you ready to take a shot at the look? Here, we've listed the best mustache for every style and face shape.
The Light Mustache
If you want to try a mustache without committing to the full-on Tom Selleck look, a light mustache is the way to go. Shave the rest of your face as you normally would, but leave a shadow of stubble just above your upper lip. It'll give your face a touch of dimension.
ALSO: How to Beat Cancer By Growing a Mustache
The Pencil Mustache
Do you want to embrace a bold, retro style? Go for the John Waters-meets-James Franco pencil mustache. This look isn't for the feint of heart; only give it a go if you're a fearless trend-setter.
The Goatee Mustache
The best mustache often comes with a little extra facial hair. Combine yours with a goatee to give your chin more shape and add a creative vibe to your appearance.
The Vintage Mustache
This retro style is a high-fashion gem. The waxed and twirled vintage 'stache is popping up all over glossy magazines, and it channels the 1890s in a big way. Be careful with this one; like the pencil mustache, it works best on guys who aren't afraid to take their style to the very edge.
The Beard Mustache
Of course, the best mustache for you might require a full beard. Not only does this version let you rock a mustache in all its glory, but it also gives your jawline a structured boost and covers any skin blemishes.