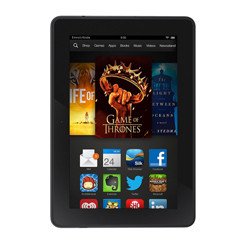 #1. KINDLE FIRE HDX 7″ ($180 @ Amazon.com)

An affordable Wi-Fi-enabled tablet with the power to stream TV shows, songs, books, apps and games. (That means during holidays you can zone out effortlessly.) You can also keep a calendar, surf the web, and synch with Outlook or Gmail. Storage options include 16, 32, and 64 GB.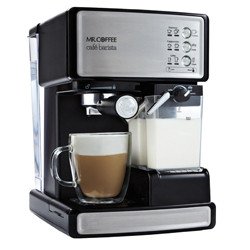 #2. CAFE BARISTA EXPRESSO MAKER WITH AUTOMATIC MILK FROTHER ($196 @ Amazon.com)
The one-button controls are super user-friendly — your mom will love that — and the milk frother means you get a little extra class to your Irish coffee, cappuccino, or latte. Both easy to clean and store — just remove the milk reservoir and run under water — it's a good replacement for her current Keurig.
#3. SAGAFORM WINE CARAFE WITH OAK STOPPER ($29 @ Amazon.com)
The 67-ounce hand blown glass carafe will look fantastic in Mom's china cabinet when it's not in use. But more importantly, when it's on display and full of wine on holidays or special occasions, it'll give you a drinking goal to strive for. And we all need goals in life.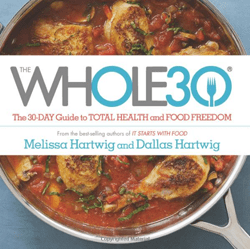 #4. THE WHOLE30: 30-DAY GUIDE TO TOTAL HEALTH AND FOOD FREEDOM ($18 @ Amazon.com)
If Mom busts out her famous lard balls and grease fillets every time you drop by, this Mother's Day might be the ideal time to drop a subtle hint that it's time to start eating healthy and dropping excess weight.  The Whole30 provides easy-to-follow instructions for prepping and cooking delicious dishes that can help mom reduce cravings, lose weight, and switch into healthy eating habits.
As a companion piece to the cookbook, the Fitbit is a simple tool to give mom the ability to track calories burned, steps taken, and sleep length and quality; it's also good for you to log runs when you're in town for a visit. It's lightweight and comfortable to slip on and wear, and its LED light display alerts you to how your day is shaping up compared to the goals you set.
#6. FROZEN YOGURT, SORBET AND ICE CREAM MAKER ($81 @ Amazon.com)
Keeping one at your pad will almost certainly lead to a spare tire. Keeping it at Mom's crib? Much smarter for weight control. The stainless steel casing looks sleek, and the heavy-duty motor whirs and spins up to two quarts of frozen yogurt, sorbet, and ice cream in no time. Add fixins through the top spout, and follow the included manual to churn out some tasty treats.
#7. STAINLESS-STEEL HYDRATION BOTTLE ($17 @ Amazon.com)
Store up to 18 ounces of liquid (read: booze) in this stainless steel container to keep cold drinks cold and hot drinks hot. The flip-top lid provides for easy access when you want to take a shot sip, and the condensation-free casing won't leave messy rings on the coffee table. Color options include silver, midnight blue, and black.