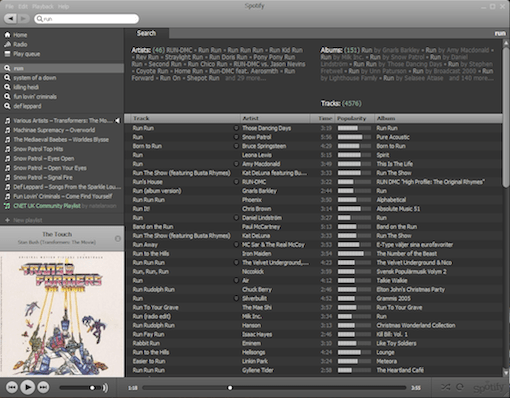 Buying and managing music online has never been perfect: Interfaces are clunky, free song samples are too short, and arcane rules govern whether or not you can listen to the tunes you've legitimately purchased on the devices you own. But things are changing thanks to cloud computing — basically, it means you can listen to your music from any device, not just from the one storing the mp3 files.
Google Music was just launched to compete with Apple iTunes Match, Amazon's Cloud Player, and Spotify (all four offer songs for between $0.99 and $1.29). So we wondered how they stacked up against each other.
GOOGLE MUSIC
Pros: Stores up to 20,000 songs for free. If you use Gmail or Google documents or Google Plus, then you're already half way to understanding the user interface and sharing metaphors. What's more, you can add songs from iTunes or Windows Media Player. And listening on mobile devices is easy — not true of other music managers.
Cons: Setting the system up takes a little work. You have to download and install a "Music Manager" and then wait an eternity for the songs to upload with very little control over what songs you want uploaded and when (most people will choose automatic uploading). Also, there's no cart-like storage area; you buy what you want one thing at a time. And there's no wish list. You can find the music store here.
Ideal for: Android users.
AMAZON CLOUD PLAYER and MUSIC STORE
Pros: Stores up to 5GB (1,000 songs) of music uploads — not including whatever you buy on Amazon — or 20GB for $20/year.
Cons: Some searches will produce CDs, not MP3s. Not optimized for all mobile devices (Android and iPad users are OK). Sorting options are limited in both the store and player.
Ideal for: Folks who do a lot of Amazon purchasing, get a lot of Amazon gift cards, or own a Kindle.
iTUNES MATCH
Pros: Pretty much everyone in the universe is familiar with the interface; the basic system has been around since 2003. Uploading is eased by the fact that the system finds file matches from your hard drive instead of uploading songs already in the cloud. You can stream or download with up to 10 devices (five can be computers).
Cons: There's a fee ($24.99 a year for 25,000 songs). Syncing playlists or files is rough if you're not an all-Apple kind of guy with all-Apple products.
Ideal for: Apple fans.
SPOTIFY
Pros: Spotify is not a browser-based storage solution but rather a dedicated music-playing and purchasing application, which differentiates it from the others. It also happens to allow users to listen to an unlimited amount of streaming music without worrying about per-song costs (if you sign up for the premium version). Premium also provides ad-free and unlimited listening when you're offline.
Cons: Somewhat confusing and pricey fee structure (premium membership costs $10 a month).
Ideal for: Social types who want to share their playlists and see other people's music tastes.