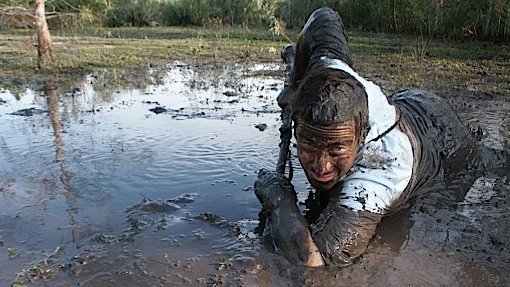 Bear Grylls was recently fired by Discovery Channel for refusing to mate with a female rhino. We're kidding — he would have had no problem doing that. Discovery actually canceled Bear's show, Man vs. Wild, after six seasons due to a contract dispute. And despite the fact that Bear was sometimes caught sneaking off to hotels after the cameras stopped rolling, there's no denying that the dude was a survival maniac. He toyed with deadly animals, dove into frozen lakes nude, and ate and drank things that normal people would have trouble merely looking at.
And so, we're saying goodbye to Bear by revisiting some of our favorite instances of him acting like an insane person.
Bear Grylls Surviving Momen
1. Man vs. Eyeball | Season 2, Episode 13
In search of protein, Bear snacks on a yak's eyeball. Meanwhile, you'd probably just grab an energy bar. Wuss.


2. Man vs. Dead Zebra | Season 1, Episode 7
Sure, he's not afraid to snack on raw zebra meat. But he's also not afraid to send back an overcooked steak.