Super Bowl XLVI is shaping up to be the most annoying big game in years, what with insufferable Patriots fans and obnoxious Giants fans and the whole Boston/New York storyline playing out yet again. (Uh, we may still be upset that the teams we care about got knocked out of the playoffs. —Ed.)
Those of us without a dog in this fight are therefore forced to turn to the one source of entertainment that never fails: getting shamefully drunk at the Super Bowl parties we're attending. Oh, and gambling. Gambling also never fails. Prop bets — they're will-it-or-won't-it-happen bets that don't really have anything to do with the outcome of a game — are perfect for those who don't care all that much about who wins. (In Vegas, Super Bowl prop bets make up a massive chunk of the money laid down on the game.)
Since we don't care all that much about the Golden Boy and Eli, these are some of the prop bets we'll be considering on Sunday. (All lines are from Bovada.lv, the recently rechristened Bodog.com)
How long will it take Kelly Clarkson to sing the National Anthem?
(Over/under: 1 minute, 34 seconds)
Ms. Clarkson was invited to perform on the most recent VH1 Divas special. It is against the diva code to sing quickly when you can labor over every note. Take the over.
Will Clarkson's bare belly be showing?
(Yes, +300)
Clarkson is a talented performer, but do a Google image search of "Kelly Clarkson fat." We think you'll agree that the answer is no.
Will Madonna be wearing fishnet stockings at any point during the Super Bowl halftime show?
(Yes -120, No -120)
Madonna is in her 50s, so … actually, that doesn't mean anything when it comes to Madonna. This could go either way.
What will Madonna be singing into at the start of the Super Bowl halftime show?
(Headset -300, Microphone +200)
Given the copious amounts of lip-syncing involved, there's no way the Material Girl even pretends to be "singing" by using a mic.
What color will the Gatorade (or liquid) be that's dumped on the head coach of the winning Super Bowl team?
(Clear 2/1; Yellow 2/1; Orange 9/4; Red 11/2; Green 6/1; Blue 10/1)
It is a scientific fact that red (i.e., Fruit Punch) Gatorade is the best, but for some reason we rarely see it on the sideline. So we're going to take orange in a mild upset.
How many times will Peyton Manning appear on TV during the game?
(Over/under: 3.5 times)
This seems like a gimme, given Peyton's little bro Eli and his ties to Super Bowl site Indianapolis. Unless he hides in the corner of the luxury box he's sitting in, expect to see a lot of Mr. Manning.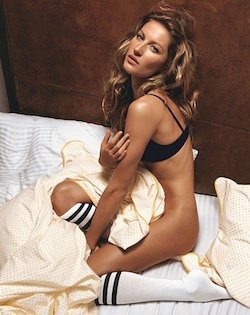 How many times will Giselle Bundchen be shown on TV during the game?
(Over/under: .5 times)
If we had our way, this number would be in the dozens — and Giselle would be wearing Madonna's fishnets and not much else. Take the over; even NBC is smart enough to show a supermodel at least once during a football game … right?
What will be higher, Eli Manning's completions (+120) or LeBron James' points (-150)?
The Giants are almost certainly going to try to slow down the Patriots by running the ball, so don't expect more than 20 completions from Eli. Even if he gags in the fourth quarter, LeBron should win.
Who will the Super Bowl MVP thank first?
(Teammates 8/5; Coach 12/1; Family 7/1; God 4/1; Owner 9/2; No one 11/4)
If only Tim Tebow were here, this would be easy money. Bill Belichick and Tom Coughlin aren't exactly the lovey-dovey types, so "teammates" seems like the safest bet.
What will happen with the stock market the day after the Super Bowl?
(Dow Up -140; Dow Down Even)
Whatever it takes to get these smelly Occupy kids off our damn lawn will make us happy. Go with the up.