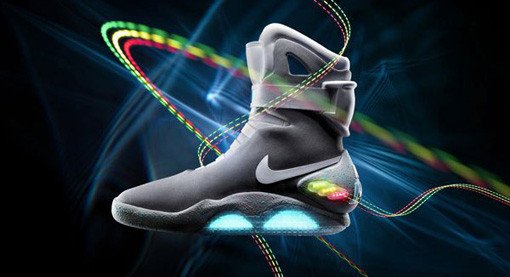 While we wait around for someone to perfect a hover board and the flying DeLorean we saw in the Back to the Future trilogy, we'll at least get a chance to check out power laces. Sort of. Nike has confirmed that in 2015 they'll release a shoe that fastens to your foot without having to tie laces. Yes, it's a fantastic day for lazy people and lovers of 1989's Back to the Future Part II.
The bad news is that they're not going to be replicas. As you can tell by the photo at the top of the page, they'll be much uglier than the ones Marty McFly wore. Two, they won't really lace themselves like they do in the film. Lastly, only 1,500 pairs will be made and you can only buy them on eBay. Expect them to cost about 100 times what you'd pay for a pair of retro-Jordan XIs.
However, the silver lining on that front is that rich people who pick up a pair will also (unwittingly or not) be contributing to the Michael J. Fox Foundation, which helps fund research to cure Parkinson's disease.