Everyone knows Yelp is a great way to let the world know just how great or godawful you think a business is run. From restaurants to bars to florists to … prisons? Yes, that's right, you can find reviews of prisons on Yelp written by helpful inmates. And who better to write about a prison's pros and cons than pro cons?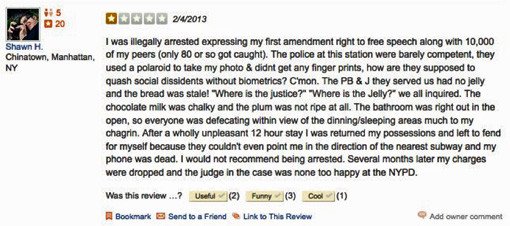 THE TOMBS (MANHATTAN CENTRAL BOOKING) | NEW YORK, NY
We understand the gripe about the bathroom situation, but Shawn H. obviously doesn't know how hard it is to find a ripe plum in New York during the winter.
Best quote: "The chocolate milk was chalky and the plum was not ripe at all."