St. Francis of Assisi (1181-1226)
Born Giovanni Francesco di Bernardone in 1181, the man who'd later become St. Francis of Assisi — and based on this photo of him, also be the unsettling opposite of a scarecrow — was born into a wealthy Italian home. His dad was a highfalutin cloth merchant, which allowed young Francesco to live quite comfortably, eating lots of extremely expensive pasta. Or whatever.
Then one day while peddling velvet for his father, Francesco was approached by a beggar. At first he was all "Get lost, hippie!" but then he experienced a change of heart and gave the man everything he had his pockets. As his spiritual awakening progressed, he decided to join the poor begging at St. Peter's Basilica, an experience that prompted him to give up all his assets and wealth to live the remainder of his life in poverty, founding religious orders and nursing lepers. Dad wasn't so happy with his son's altruistic turn — good cloth salesmen were tough to find, after all. So he did what any concerned 12th Century Italian father would do: He beat his son mercilessly. The tactic didn't work.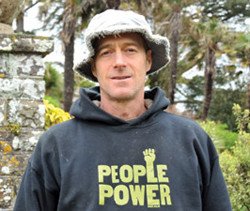 Hector Christie (1961 — )
The eldest son of British nobles Sir George and Lady Christie gave up the good life on his parent's 6,000-acre country estate for his true passion — rabble-rousing. Christie forked over his inheritance to his brother at age 19 to focus on protesting. Some of his greatest hits: dressing like a GM watermelon, heckling dignitaries Tony Blair and Gordon Brown, parking himself in the middle of the road alongside felled trees to block the slaughter of wild cattle, and exposing his undies on national television to reveal a picture of the prime minister alongside the word "fool" on his ass. Last August, Christie, now 51, pled guilty to causing criminal damage after he destroyed genetically modified crops.
That said, he hasn't exactly had to rough it. He inherited a mansion on an 8,000-acre estate when he was 26 years old, and for years he ran it as a quasi-hippie commune. In 2011, he let the estate be featured in a reality TV show, and as a result he learned that the place housed the second-largest collection of antique — and extremely valuable — Morris furniture. Some guys have all the luck.
Queen Christina of Sweden (1626 — 1689)
Christina's father died during a battle in the 30 Years' War, when she was six years old. That meant she then became queen of the Swedes. At her late father's insistence, she was raised and educated "as a prince," which in the 1600s meant she learned more about math and philosophy than about table etiquette. But after 10 years of mostly successful rule, she decided to abdicate her crown. She claimed the job was too tough for a woman, and said she was too ill to continue to lead. But historians think there are other reasons — her conversion to Roman Catholicism, her aversion to marriage, and a struggle with her femininity. (The conversion was scandalous, since her father died fighting against Catholics on the side of Protestants.) When Christina fled Sweden, she did so not a handsome woman — eventually making her way to Rome.