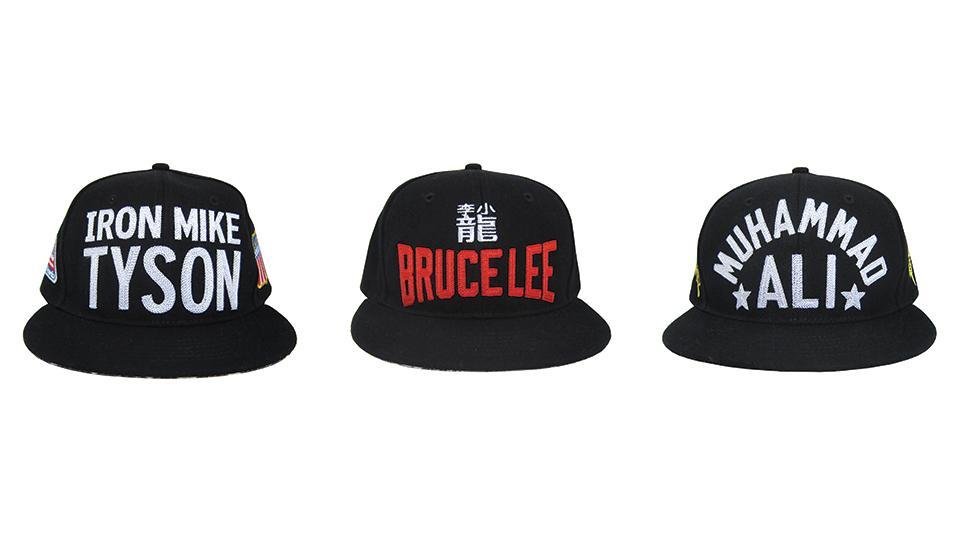 With this collection of Roots of Fight fighter snapbacks — $35 each @ rootsoffight.com — you won't always feel tough or ready to rumble, but you'll at least look the part. Each cap is made of an acrylic-wool blend and features has the name of three of the world's most prominent fighters and entertainers emblazoned on the front. On the reverse side of the brim you'll see a  pic of famous moments in the fighters' careers, too.
Noted kung fu pioneer Bruce Lee is, for many, the face of Chinese martial arts. He founded his own innovative fighting style, Jeet Kune Do, which broke through the rigidity of existing styles and left a legacy on martial arts that continues today.
"Iron" Mike Tyson held the title of undisputed heavyweight champion for three years and was the youngest boxer to win the IBF, WBA, and WBC. He was the first heavyweight boxer to hold all three titles simultaneously, and is still remembered as one of the finest boxers of all time. Now, he's also known as the dude form the Hangover films, the star of a Broadway show (Mike Tyson: Undisputed Truth), and a voice on the wildly popular cartoon on Adult Swim, Mike Tyson Mysteries.
The late, great Muhammad Ali was a fighter inside both and outside the ring. After winning an Olympic boxing gold medal at age 18, he went on to be the only three-time lineal heavyweight champion, and was The Ring's Fighter of the Year six times. Ali was also a big advocator for social change, and refused to allow social norms to dictate his path.