Hopefully your dad already owns a smartphone and understands how to operate it. If not, screw a tech-related gift and get him a fountain pen or something. However, if he's even the slightest bit tech-savvy he'll dig these cool and useful gadgets from Nokia and Tego, which will help forgetful Dads keep tabs on their belongings, and finally give him a reason to ditch that old school duel cassette boombox.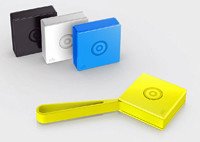 Nokia Treasure Tag
This tiny Bluetooth device can save Dad's ass big time if he's about to leave something behind. Attach the .45-ounce Treasure Tag ($30-$50 @ Amazon.com to a keychain, wallet, luggage, etc. and you'll be notified when you're about to leave something behind. Just pair it with your phone, download the app, and you'll receive an alert when you're separated from the tag. It'll also display where the item is on a map. You also have the option to mute or send the alarm into sleep mode.

Tego Audio CERA & Power Grid ($90-$200)
You've head this one before: good things come in small packages. Well, the Tego Audio Bluetooth Speaker ($60 and up @ Amazon.com) lives up to that. The 5.5-oz. circular speaker pairs to your device via Bluetooth and supplies 360-degrees of sound while serving up to seven hours of playback off of one charge.
Throw in Tego Audio PowerGrid ($90 @ Amazon.com) battery adapter, a Lego-looking portable device charger that can charge two devices at once, and Dad has all he needs to keep his phone charged and his tunes bumping when he's on the go or tooling around at home.