Thankfully many offices have become lax on their anti-jeans stance. In fact, unless you're forced to wear a suit — sucks for you! — chances are wearing jeans is permitted. Outside of work, jeans are versatile enough to wear on dates, on stakeouts, and bank heists. In other words, you need to own a few pairs of quality jeans. Need help finding some options that cover a variety of price points? Request granted …
#1. Lucky Brand Men's 181 Relaxed ($55 and up @ Amazon.com)
Featuring a straight leg and dark denim, the no-frills jeans are perfect for work or play. They are made of 100 percent cotton, and are machine washable for convenience. The jeans have a common zip fly so taking a leak won't involve undoing two or three buttons. Five pockets provide plenty of room for everyday essentials — wallet, keys, breathalyzer, etc.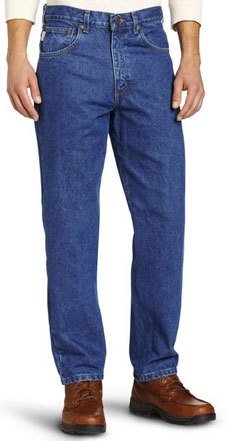 #2. Carhartt Men's Relaxed Fit Jeans ($30-$50 @ Amazon.com)
Designed to stand up to rigorous use of working in a mine or slaying orcs in Middle Earth, the regular-rise jeans are the go-to choice for all types of laborers. The relaxed fit and generous 15.25-inch leg opening provides added comfort. The jeans have five pockets total, including two reinforced back pockets.


Next: Buffalo David Bitton & Thermal Jeans