Nixon — a company created by two California bros who couldn't find the right timepiece to reflect their style — is known for producing durable watches that possess a clean, modern design. In the Sentry we find an everyday watch (not too big, not too small; not too subtle, not too flashy) that's just right. Above all, we're into its stealth-bomber looks and rugged construction (waterproof up to 100 meters).
Another option …
A gorgeous, water resistant watch. Surrounded by 42 mm stainless steel, the white watch face sports an enamel-filled crown, round dial with skeleton hands and date window. Caramel calfskin with decorative extras wraps around the wrist with a buckle closure.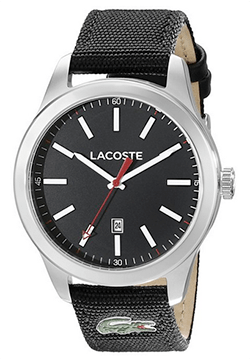 The perfect watch for the man on the move. A black, nylon strap offers comfort and durability while the stainless steel, silver and black watch head offers a classic style. Silver watch hands move behind durable mineral crystal, which protects the watch from scratches.

NEXT: NIKE, ASUS, AND SWATCH