If you're one of the lucky ones who gets to wear shorts to work, don't blow it by going all Spicolli and dressing like a lazy slob. Additionally, if you're wearing a pair of shorts on a date, you need them to accentuate the style of the rest your getup. So along with the basics — don't wear "shants" (i.e. half-shorts, half-pants) and don't let them hang off of your ass, etc., the best shorts for men are actually an easy concept to grasp. All you need to do is lock down a style that works for you and stay the hell away from pleats.
Also: 7 Stylish Spring Jackets For Guys
The patterns, fabric, and styles you choose should allow you to feel comfortable without clashing with whatever vibe you're looking to put out. And, of course, the fabric needs to be weather-specific. As in, if you're prone to sweating your ass (and nuts) off, shell out more for synthetic fabrics that wick up moisture opposed to organic materials that simply sop it up.
Pictured: #1. Oakley Fox Shorts ($30 @ Amazon.com)
Lightweight and comfortable, these slim-fit shorts sport deep pockets that can easily hold your essentials like wallet and keys. Made to be cool on even the hottest days, these camo-print microfiber cargo shorts are tailored with a zip fly and snap closure.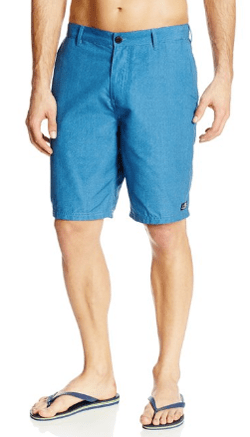 #2. DC Men's Worker Hybrid Walkshort ($30 @ Amazon.com)
If you're looking for the perfect beach or vacation shorts, these chino walk shorts will impress you. Designed with a mesh lining, you can swim in these shorts. Add flip-flops and a shirt or tee, and you're ready for casual dining in a snap.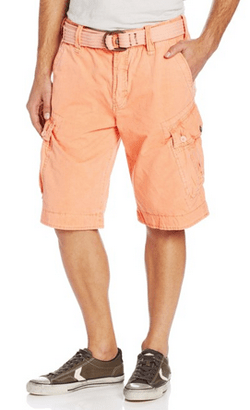 #3. Jet Lag Men's Take-Off Short ($55 @ Amazon.com)
Off-seam front pockets, back flap pockets, and button-flap cargo pockets plus a cool D-ring belt give these shorts a modern vibe. A zip fly and button closure ensure they stay put. Pick your color, as these shorts come in a variety of great looking hues.
#4. Columbia Men's Washed Out Short ($20 and up @ Amazon.com)

The best shorts for men who travel light? These Columbia's are a decent pick; they're slim, easy-dry shorts that look as good out at the beach as they do out at dinner with your favorite hooker mistress girlfriend. Grab a pair in khaki or any of the cool washed-out colors as these shorts are very versatile. They close with a button for a perfect fit.
Next: Billabong Men's Crossfire PX Shorts