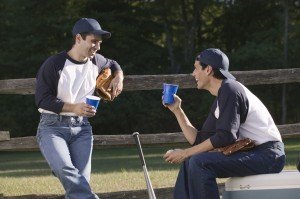 Our planet hasn't yet become a sun-scorched post-apocalyptic wasteland — give it time, Mr. Impatient — but we still need to mount a strong defense against the sun and other earthly elements. Now that Spring is here and your softball, volleyball, and lawn bowling leagues are resuming, you need to know how to keep your skin healthy. From sun burns to skin rashes, these perfect-for-Spring skin-care products will help you do just that.




Scape Sunblock ($12)

Scape is a waterproof, sweatproof SPF 50+ sunblock developed to protect you from UV rays without burning if it drips into your eyes. So whether you're running a 5K or taking a dip in your neighbor's pool while he's out of town, Scape's polyplex technology — which means it's based on polymers rather than oils — won't leave a greasy residue. That means you also won't have slippery hands that make you accidentally hurl your driver off the tee and into the woods.