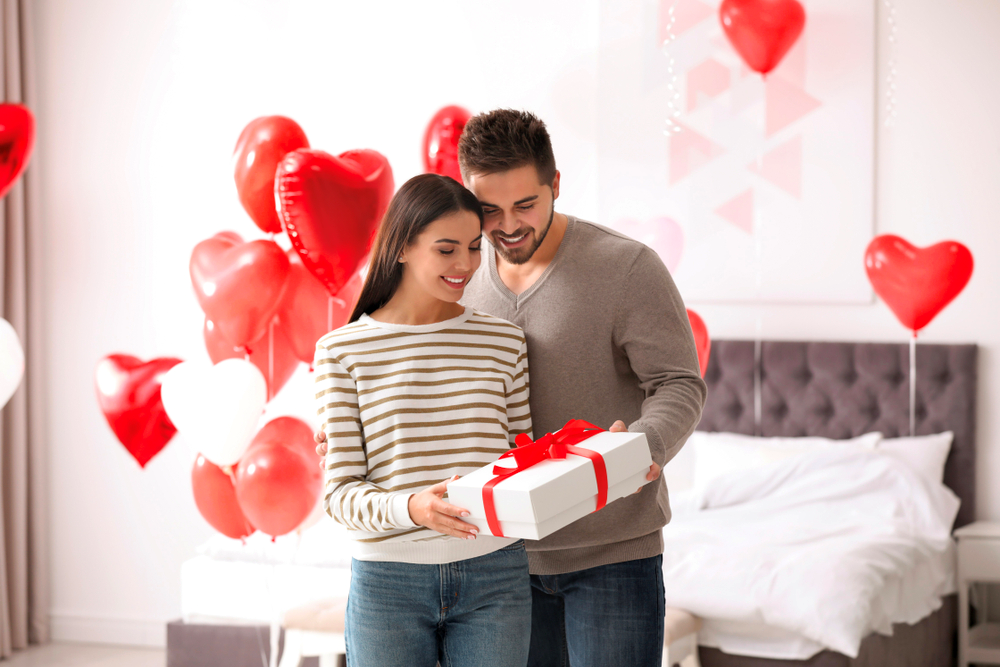 The big day is around the corner, and finding the perfect Valentine's Day gift for the woman in your life isn't something you want to neglect. Sure, there are plenty of other gift-giving holidays. But if you play your cards right, Valentine's Day can be a fun and exciting day for both of you.
If you're willing to take the initiative and take matters into your own hands, you'll make her feel loved and appreciated while designing a day you'll love, too. It's a win-win. Do you need some guidance on designing the perfect day? Here's a breakdown of the Valentine's Day formula that will have her melting.
1. Plan a Gift for Her in Advance
It's an important occasion, and if you don't start making plans now, everything — and we mean everything — will be booked solid. The key to doing this holiday right isn't how much you spend; rather, it's the thought that counts. But if you leave everything to the last minute, you'll find yourself scrambling, and she will know this was a last-minute endeavor.
Now, I'm going to do you a solid and offer a peek into a woman's mind: Throwing together anything last-minute for Valentine's Day reads as you not caring enough about her to do it right. And that's an excellent recipe for turning what could be a relationship win into a big fat fight that you don't want to deal with. So do yourself a favor and start making plans early.
2. Make Valentine's Day Sweet and Sexy
Who said you can't do it all? Leading with sweet and thoughtful is a perfect foundation for the holiday that will stoke the fire when the sun goes down, and things start heating up. Kick off the festivities with breakfast in bed or a surprise staycation at a local B&B the weekend before. Follow it up with reservations for your favorite quality-time activity, whether you have a date at the zoo, a couples massage, a pottery class, or any other activity you both enjoy.
By booking a stay locally or in a just-far-enough-away town, not only does the day feel extra special and secluded, but it gives you the perfect place to resort to at the end of the day. After exploring the town and wrapping up all activities, it's time for dinner. Have reservations ready for a nice spot, or head to the grocery store to grab what you need for her favorite home-cooked meal. Whatever venue you decide on, just don't forget the wine. And with that, you have the perfect transition in motion to take the night from sweet to sexy.
3. End the Day with a Sexy Gift for Her to Unwrap
When you return for the night (if you go out), keep the vibes right by breaking out the bottle of wine. With drinks poured, it's time for gift-giving. Picking out and wrapping some sexy Valentine's Day lingerie is the perfect bridge between a physical gift she can unwrap and a romantic experience — one that you can enjoy together. If there's a quintessential Valentine's Day gift, sexy lingerie is it.
4. Unique Ideas – Customized Photo Albums or Engraved Jewelry Pieces
If you want to give your significant other something truly memorable this Valentine's Day, consider creating a customized photo album filled with pictures from all of your favorite adventures together over the years!
Alternatively, have an engraved piece of jewelry made with an important date or phrase inscribed on it—this could be anything from an anniversary date to a song lyric that is special to both of you. These unique gifts will not only show your partner how much they mean to you but also serve as lasting reminders of all the wonderful memories shared together!
The Perfect Sexy Valentine's Gift for Her
Making plans for sharing some fun quality time together gives you the space to reconnect and truly celebrate why your relationship is so important in the first place. Follow these steps, and you'll blow any past Valentine's Day she's had out of the water. Happy planning!