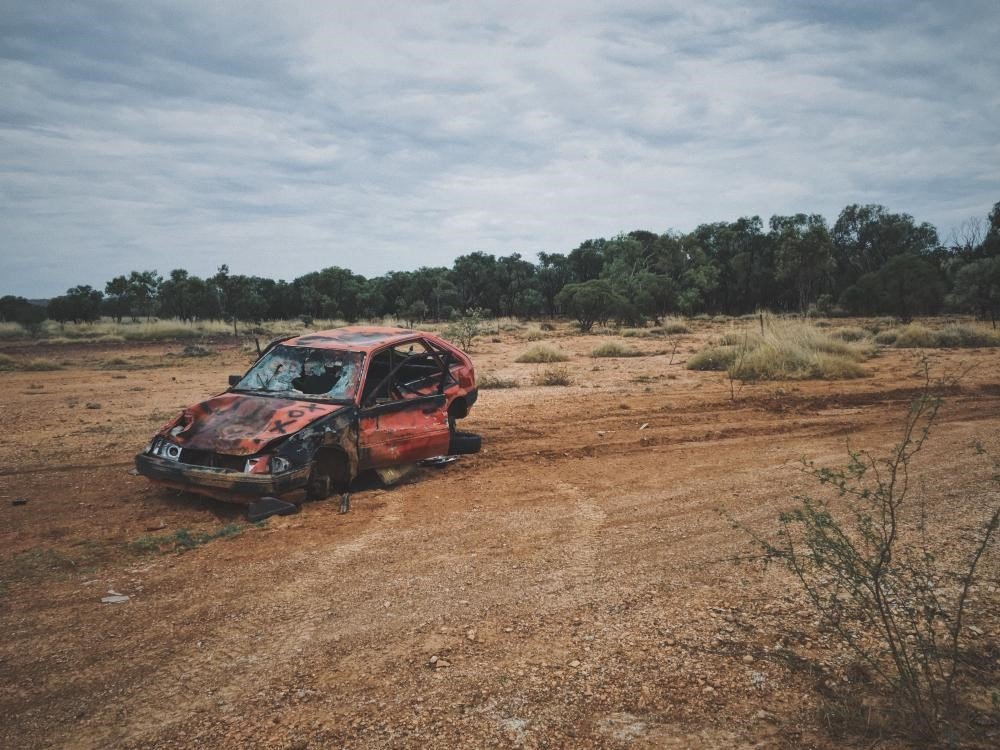 Once you realize that your car has hit the category of junk, you may have absolutely no idea what to do with it. You think that junk gets thrown away, but a car is a big piece of trash to get rid of. We've all seen junk and garbage scattered here and there, along with the occasional stripped-down abandoned vehicle. If you're thinking about doing a dump and dash, you may want to reconsider this idea. There are legal consequences to abandoning a junk car in California.
The Legal Ramifications of Abandoning a Car in California
While it may be tempting to drive or tow your junk car to a random location like an industrial area, a remote back road, or even a busy mall parking lot and simply walk away from it, this is not something you should even consider. Not only is it unethical, you could be fined. California Vehicle Code §22523 states the following:
No person shall abandon a vehicle on a highway
No person shall abandon a vehicle on public or private property without express written permission
Persons convicted of abandoning a vehicle in California shall fined at least $100
And to add fuel to the fire, if you alter, change, deface, or remove the junk car's vehicle identification number (VIN), it's considered a crime. You could be charged with a misdemeanor and be fined up to $1000 and face a year behind bars. California Vehicle Code §10750 is very clear about the tampering of a vehicle's VIN. Unbeknownst to most, vehicles have their VIN hidden in six or more places. If you dump your junk car, chances are, it'll be tracked back to you.
These vehicle violation codes are mostly used to combat car theft, illegal car stripping of parts for resale, and insurance fraud. However, if you simply abandon your junk car just because you have no use for it can and will put you at risk of a court appearance and fines. Fortunately, there are other options for getting rid of a junk car.
Better Ways To Dispose of a Junk Car in California
If only there was a way to get cash for junk cars in San Bernardino, California. Actually, there is, and we'll cover that in this article. Abandoning a vehicle could land you in the hot seat so why take the chance?
Rather than face legal ramifications by illegally abandoning your car, you do have other ethical and profitable choices. Why face fines when you can unload your clunker sustainably and put some extra cash in your wallet? Here are some ideas to help you stay on the good side of the law.
Donate It
Many charitable organizations will happily come and tow away your junker. You can choose a non-profit that speaks to you in some way and help out those less fortunate than you. Once they've sold it, you'll receive a document stating the selling price that can be used as a tax deduction.
Scrap It
Most scrap yards will pay you for the vehicle's weight in scrap metal. They don't pay top dollar and some will require you to bring it to them, but it's an ethical way to unload a junk car and still get some money for it. Rates for scrap metal could vary from yard to yard, so make a few phone calls and see which one in your area offers you the best price.
Sell It to a Specialized Dealer
The easiest and most profitable alternative to abandoning a junk car is to sell it to a specialized dealer that purchases all types of cars regardless of their age, mileage, or condition. They offer a free tow-away service while leaving you with a check, cash, or Venmo payment. They'll handle all of the paperwork, and the process is incredibly transparent and straightforward.
Don't Put Yourself in Hot Water by Abandoning Your Junk Car
Abandoning your jalopy by dumping it somewhere is not only selfish and unethical, it's illegal in the state of California. Trying to make it someone else's problem will only lead to more problems for you. Dumping a junk car, especially if you've attempted to alter or destroy its VIN, will come back to haunt you with fines and possible jail time. Why take that risk when there are other much better alternatives?
You can scrap it or donate it, but the easiest and most profitable method of disposing of a junk car is to sell it to a specialized junk car dealer. They'll pay you top dollar for the privilege of towing your wreck away and most will do so within 24 hours. It doesn't make any sense to throw something away and possibly face legal issues when you can contact a junk car dealer and actually make a few dollars for doing the right thing.