Best Legal Moonshine Brands
"You can always tell a moonshine drinker by looking at his nose — the mason jars leave a crease!"
Jimmy Russell, Wild Turkey's legendary master distiller — he's been on the job for the past 56 years — is schooling us on white lightnin'. Why is Russell, who makes whiskey, an expert on moonshine? One, because he's awesome. Two, because what most Americans call "moonshine" is simply unaged corn or rye whiskey. In other words, it's what pours out of Wild Turkey's stills before it's aged to perfection in barrels. (Distillers call it "white dog.")
Moonshine, when distilled poorly, can blind you, kill you, or make you wish you were dead and blind because of your awful hangover. But when done correctly, it can be sipped just like a whiskey, or mixed into cocktails.
In the past, moonshine was hard to come by because it was, by definition, secretly made in illegal stills. But now, especially after the recession that hit in 2008, several (perfectly legal) "moonshines" have hit the market, and business has been kind. According to a report in Time, more than 280,000 cases of moonshine were sold in 2012, a jump from between 50,000 in 2010 and 80,000 in 2011. Along with big distilleries getting in on the action, big businesses like Walmart and Sam's Club agreed to stock some brands on their shelves as well.
First distilled back in the 1800s, many government-bucking, libertarians made it despite Uncle Sam wagging his star-spangled middle finger at those who wanted to profit from hooch. Nowadays, moonshine brands aren't pumping out hooch that'll make you pray for death, and they're not necessarily meant to be sipped one tiny drop at a time. In fact, Ole Smokey Moonshine out of Tennessee have provided suggestions for holiday-themed moonshine cocktails, including Pumpkin Pie Moonshine, Shine Nog, and Pumpkin Pie Moonshine.
Firefly Moonshine was born on Wadmalaw Island, South Carolina, on a tree-lined road where good ole southern tradition met a distillery that's been decidedly meticulous in its moonshine output since its beginnings. (Which, if you didn't know, is what you want.)
These dudes were brewing Firefly for themselves way before they released their baby to the public; even so, they remain the first and largest moonshine distillery in South Carolina, offering top quality moonshine with a flavor for every occasion. No, seriously: Firefly Moonshine comes in White Lightning, Apple Pie, Caramel, Cherry, Peach, Strawberry and Blackberry flavors. Just don't try them all at once.
CatDaddy's "secret" blend of natural and artificial fruit flavors makes it taste a lot like an 80-proof liqueur: Smooth, fruity, and slightly medicinal. It blends nicely with bourbon or aged rum (just keep in mind you're mixing two strong alcohols), though lemon juice battles the cherry flavors here, so go don't go overboard on the citrus.
You should check out Ole Smoky because it has a cool name, because it comes in a mason jar, and because you'll be slugging liquid history — Ole Smoky is made in what was the first federally licensed distillery in East Tennessee (Gatlinberg to be exact). More evidence of its impressive pedigree? The 100-proof spirit is made by longtime Maker's Mark distiller Dave Pickerell.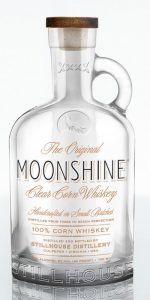 For starters, we love this bottle. Plus, the quadruple distilled, Virginia-based spirit is certainly cocktail-friendly. The charcoal filtering removes bitterness and adds some sweetness. So even though the copper pot distilling process has supposedly been "passed down discreetly for hundreds of years," the brainchild of entrepreneur Brad Beckerman and NYC chef Adam Perry Lang has a very contemporary feel.
An excellent choice for tree huggers and locavores, Kings County is the self-proclaimed first legal New York City whiskey distillery since Prohibition. It employs organic New York corn and a little malted Scottish barley for body. This distillery is so small (there are five eight-gallon pot stills sitting in a Brooklyn loft, producing a little more than two gallons of Kings County per day each) that merely owning a bottle will give you booze cred.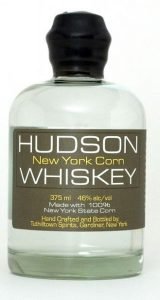 Hudson New York Corn Whiskey ($35)
This was one of the first new-generation moonshines to be introduced to the mainstream market. Crafted in single batches from New York corn (with no added sugar), what isn't bottled as this clear whiskey is aged in barrels to become the company's excellent Hudson Baby Bourbon. The whiskey is smooth and round (80 proof), and you can actually smell the corn. It's designed for sipping, but it also plays well with lime, fruit juices, and astringent liqueurs like Cointreau and Campari.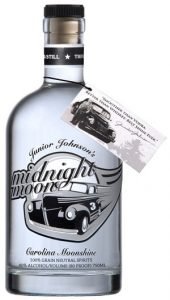 Junior Johnson's Midnight Moon ($20)
This moonshine — made by NASCAR legend and former bootlegger Junior Johnson — goes through a triple-distillation process that results in a surprisingly smooth, spicy/nutty white spirit, with a nose that's only slightly reminiscent of cleaners. More like a soft gin than a vodka, this puppy gives almost no burn if yer slammin' it straight.
MOONSHINE COCKTAIL RECIPES
Lightning Bolt
1 oz Wild Turkey 101 (or another high-proof bourbon)
1 oz CatDaddy Moonshine
1/2 oz Fresh Lemon Juice
1 oz Amarula cream liqueur
Dash of bitters
Place ingredients in a shaker with ice. Shake and strain into cocktail or martini glass.

Moonshine Margarita
2 oz Stillhouse Original Moonshine
1 oz Cointreau or Triple Sec
1/2 oz Fresh lime juice
Dash of bitters (not Angostura)
Combine ingredients in a shaker with ice. Shake and strain into a cocktail or margarita glass. Rim with salt if desired. Garnish with a lime wedge.
How do you know if a moonshine brand is actually legal to drink in your state or country?
In the U.S., it is not always easy to know if a moonshine brand is legal for you to purchase and consume, as regulations can vary from state to state. Before purchasing, be sure to check with your local authorities for any laws regarding the sale or purchase of alcoholic beverages.
Additionally, reputable brands that are legal to drink in your country will often have their permit numbers/licenses printed clearly on their labels or websites. Most importantly, informed moonshiner's research the origin of their product and always drink responsibly. By following these steps you can enjoy quality moonshine without having to worry about illegality.
In the end, finding the best moonshine brands will take numerous taste tests. Basically, it's an excuse to drink more. You're welcome.