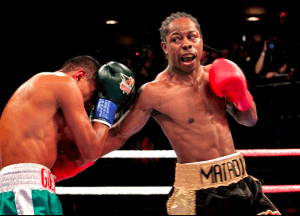 Mixed martial arts may be the en vogue way for scary dudes to pummel each other on TV, but that doesn't mean boxing is dead. Even though many people have all but held a funeral for the sport of boxing, an upstart international league is changing the rules to make it relevant again.
The World Series of Boxing is comprised of 12 teams in cities from Los Angeles to Beijing to Moscow to Paris. When two teams compete, each sends one boxer from five weight classes (ranging from bantamweight to heavyweight) to compete in a five-round bout. The team that wins at least three of the bouts scores the victory.
To get their team-boxing concept over, the WSB has recruited a group of highly talented pugilists. You won't find any Glass Joes in their ring, but you will find dudes who have earned Golden Gloves and even former and future Olympians. (One recent bout we attended had Evander Holyfield ringside; luckily, Mike Tyson was nowhere to be found.) Fighters get paid, but the WSB struck a deal with the International Olympic Committee to ensure that the athletes maintain amateur status.
No matter how into boxing you are, matches are a lot of fun. So check out the World Series of Boxing.