Thirty-five-year-old Shaun Neff heads a $100 million business that sells everything from beanies and T-shirts to fedoras and watches. Primarily targeting surfers, skaters, and snowboarders, Neff's products typically (and unsurprisingly) feature lots of personality. Whether your skate or snowboard or sit on your ass and play PS4, if you're on the hunt for a watch that's affordable and something different than a standard timepiece, Neff watches are probably a good fit …
The monochromatic black and gray design looks sleek and modern. We wish we could wipe the "Neff" from the face, but that's branding for you. And it's not that off-putting, we're just babies. The silicone band is adjustable and the watch tips the scales at 1.6 ounces. It's water resistant up to 164 feet.
The stainless steel case gives the watch a more expensive look than $60, which makes it a great option for dates and work meetings. Along with style, it features Japanese three hand movement and a nylon strap.
It's simple and fashion forward, but if that's you, roll with it. Unless your office is casual, you might want to consider shelving this for social occasions.
The super light one-ounce Flava watch is a throwback to the old-school Casio watches. Features include backlight, date, military time, and an alarm.
Inexpensive and minimalistic, the Daily offers you a chance to sport a classic-looking watch on the cheap. There are countless color options and designs if you want to spice things up with this model.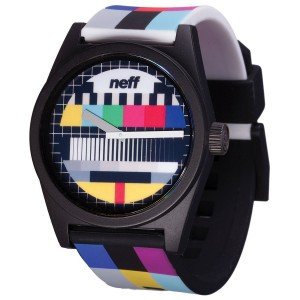 Neff Unisex Daily Wild Water Resistant Watch ($31 @ Amazon.com)
From the polyurethane strap to the multicolored face, the watch is super design-heavy (and so are the other variations), but that's not necessarily a bad thing. As we've told you before, a watch says something about your personality. If you're extroverted, this model will fit right in.
Let's take a closer look at why Neff watches have become so popular in recent years.
The Quality of Neff Watches
The first thing that stands out about Neff watches is the quality of craftsmanship that goes into each one. Every single watch is carefully inspected for any imperfections and every part is tested to ensure it meets the highest standards of quality.
Each watch is also water-resistant up to 50 meters, so you can wear it while doing activities like swimming or snorkeling without worrying about it getting damaged by water. Furthermore, all Neff watches come with a 2-year warranty so you can rest assured your new watch will last a long time.
The Style of Neff Watches
In addition to the superior craftsmanship that goes into each watch, another reason why people love Neff watches is their unique design. The brand offers both traditional and contemporary styles for men and women, so there's sure to be something that appeals to everyone's taste.
Each collection features different materials such as stainless steel or leather straps and bold colors like rose gold or bronze. With all these options available, it's easy to find the perfect watch no matter what your style may be!
Affordability of Neff Watches
Finally, one of the best things about Neff watches is they're surprisingly affordable considering their high-quality materials and craftsmanship. You can find great deals on these stylish timepieces without breaking the bank!
Plus, many sites offer free shipping on orders over $50 which makes shopping even more convenient. So if you're in the market for a new watch that looks good and won't break your budget, then consider checking out some of the amazing options from Neff!