Thirty-five-year-old Shaun Neff heads a $100 million business that sells everything from beanies and T-shirts to fedoras and watches. Primarily targeting surfers, skaters, and snowboarders, Neff's products typically (and unsurprisingly) feature lots of personality. Whether your skate or snowboard or sit on your ass and play PS4, if you're on the hunt for a watch that's affordable and something different than a standard timepiece, Neff watches are probably a good fit …
The monochromatic black and gray design looks sleek and modern. We wish we could wipe the "Neff" from the face, but that's branding for you. And it's not that off-putting, we're just babies. The silicone band is adjustable and the watch tips the scales at 1.6 ounces. It's water resistant up to 164 feet.
The stainless steel case gives the watch a more expensive look than $60, which makes it a great option for dates and work meetings. Along with style, it features Japanese three hand movement and a nylon strap.
It's simple and fashion forward, but if that's you, roll with it. Unless your office is casual, you might want to consider shelving this for social occasions.
The super light one-ounce Flava watch is a throwback to the old-school Casio watches. Features include backlight, date, military time, and an alarm.
Inexpensive and minimalistic, the Daily offers you a chance to sport a classic-looking watch on the cheap. There are countless color options and designs if you want to spice things up with this model.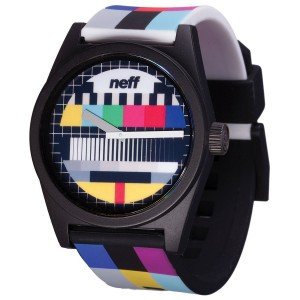 Neff Unisex Daily Wild Water Resistant Watch ($31 @ Amazon.com)
From the polyurethane strap to the multicolored face, the watch is super design-heavy (and so are the other variations), but that's not necessarily a bad thing. As we've told you before, a watch says something about your personality. If you're extroverted, this model will fit right in.