A list of the top PDF editors in 2020 (Windows and Mac) invariably contains all the known suspects like Adobe Acrobat or Nitro PDF, but there's a new potential contender in the mix that we're showcasing as part of our Top 5 PDF editors for you to consider as we move smoothly into 2020 and the new decade.
Here's our version of the Top 5 Windows and Mac PDF editing software, along with an overview of the product, key features, pros, and cons. You'll see the familiar names, no doubt, but we hope this presents a diverse collection of the top PDF editors for personal and business use.
PDFelement – Powerful, Intuitive, Affordable, Cross-platform (Windows, Mac, iOS, Android)
For a truly elemental experience with powerful PDF functions like full-suite editing, comprehensive conversion options, advanced OCR function, and form-creation from scanned PDFs, try PDFelement and PDFelement Pro in their Version 7 avatar.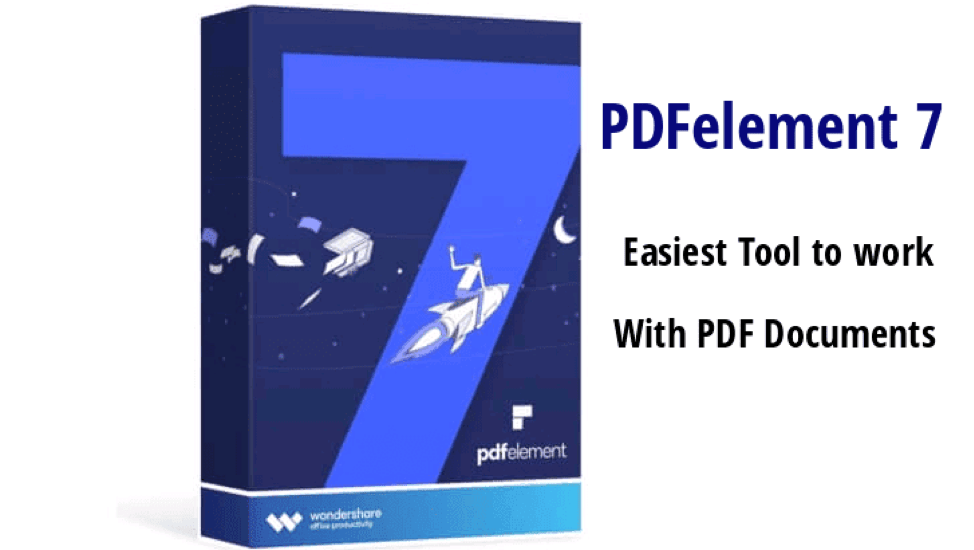 The most commonly used features like editing PDF, converting PDF to other formats, eSigning, creating PDF from other source files, filling forms, and so on are all straightforward actions on PDFelement. No searching for tool menus or fumbling around for specific settings. The ease-of-use factor is deliberately high so as to attract new and experienced users alike, letting them effortlessly create, modify, convert, protect, or sign a PDF document in mere minutes.
Some of the stand-out features of PDFelement 7 and its Pro sibling are outlined below, followed by some of the key pros and cons of this top PDF editor in 2020.
Upgraded Interface – PDFelement 7 brought in some revolutionary changes to its graphical user interface. Not only did it become easier to use but brought more speed and accuracy to processes like editing and converting PDF to other file types. The UI is now closely aligned with typical Microsoft applications to make it easier for new users to engage with, and the Mac version underwent a similar change to be more like Mac App Store apps. Now, it's easier than ever to convert files to PDF or convert them from PDF. The edit function can handle any content element, including links, media, text, headers & footers, and so on.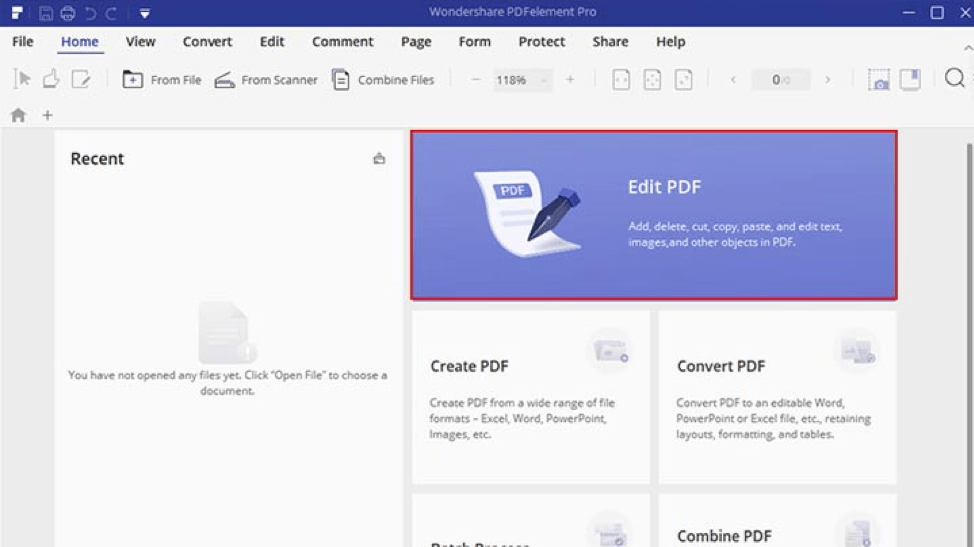 PDF Editing Made More Intuitive – Fast and smooth is how you would describe PDFelement's editing features. The editing tools are conveniently located in a collapsible tool sidebar that appears with contextual settings based on what element you're editing. In other words, you only see the tools you need to edit that piece of content, whether it's text, an image, a video, or a hyperlinked bit of anchor text. New users will be delighted at how quickly they're able to find the modules and tools they need to get the job done in minutes instead of hours.
Perform Accurate OCR – One of the key aspects of any OCR (Optical Character Recognition) is the ability to support multiple languages. PDFelement Pro's OCR plugin can handle two dozen different languages. In addition, it will automatically detect a PDF that's been created from a scanned document and ask you whether you want to perform OCR. Once you process the document, it will be completely editable and selectable, as well as indexable by search engines like Google and Bing.
Batch Conversion and Other Processes – There are numerous processes in PDFelement that you can execute with batches of PDF files. Some of these are conversion, OCR, extracting data, encryption, watermarking, optimization, and applying Bates numbering. The conversion process for batches is also faster than most other batch processing PDF utilities, as well as more accurate in the case of conversion and OCR. That makes it more reliable as a batch utility for PDF documents, not to mention a huge time-saver.
PDF Conversion to Other Formats – Providing one of the widest ranges of conversion options, PDFelement has every professional covered. If you're in publishing, you might want EPUB or HTML. Check. If you work with MS Office, you'll want Excel, PPT, and Word. Check. But possibly the most attractive conversion aspect of PDFelement is that your fonts, layouts, and formats won't change when you convert a document from PDF to any of the numerous formats that the software is capable of handling.
Form-handling – PDFelement is a pro when it comes to handling forms. Apart from the basic task of creating a form from a blank document, you can also extract form data, make a scanned form editable, fill forms, edit XML Forms Architecture (XFA) forms, import and export data from forms, and a lot more. You can also take advantage of the many form templates to create your own custom form. In addition, you can edit forms to change the attributes of the individual fields or align all selected fields with one click.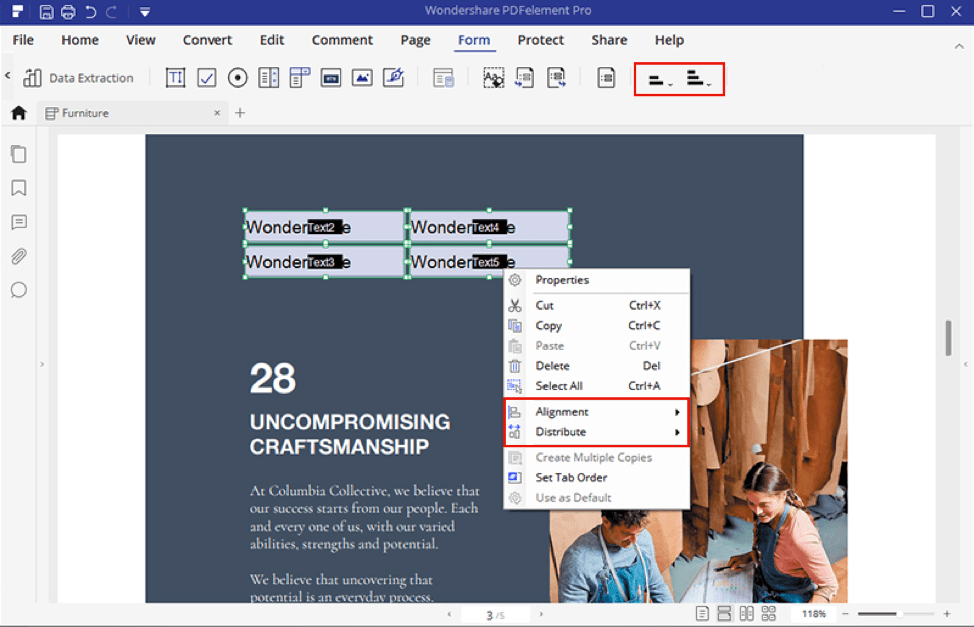 Protect PDF – One of the core functions of any PDF editor is the ability to apply password security with encryption to a non-protected document. PDFelement can help you secure a PDF with either an Open or User password, a Permissions or Owner/Master password, or both. That way, you control access and editing permission for your private and confidential data. You can also redact sensitive data, and sign your documents electronically or digitally.
Pros
Intuitive and extensive features make PDFelement the ideal PDF editor for both absolute beginners and seasoned professionals
Manage all your PDF workflows from one single program
Convert to and from PDF in an accurate manner, maintaining all the original attributes
Creating, editing, and converting PDFs has never been faster than with PDFelement
Directly access cloud storage platforms to open and manage your PDFs
More affordable than comparable PDF editors with robust editing, conversion, forms, OCR, and other advanced functions
Scanned documents can be easily OCR-converted so they can be edited or made searchable
Cross-platform availability even extends to touchscreen devices, making PDFelement feel like a native experience whether on an iPad, a MacBook, or a Windows desktop computer
Conversion, OCR and other batch jobs save a tremendous amount of time and make you more efficient and productive
Cons
Trial version does not support advanced features
PDFelement watermark is applied to free converted and edited files
Get PDFelement Up to $70 Off Offer here>>
Adobe Acrobat DC – The Ubiquitous PDF Editor, But Expensive
There's hardly anyone who hasn't heard of Adobe's PDF editor because it was the very first to be able to handle the PDF format. Functionality is robust and has evolved over the years to include all the features you'll ever need when dealing with a PDF file. Here are some core features: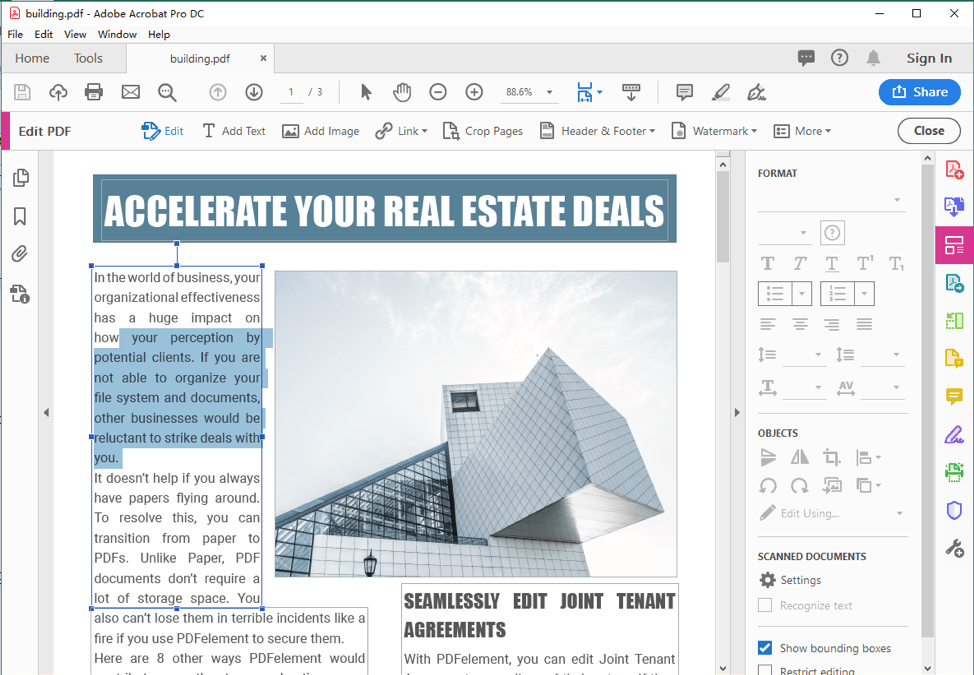 Great PDF Editing Experience – Editing PDF is a straightforward job on Adobe Acrobat DC and DC Pro. The software allows highly granular editing where you can make minute changes like alignment or font type without upsetting the overall layout of the PDF file in question.
Cloud Option – Document Cloud, or DC, is essentially a cloud-based environment where documents on the cloud can be edited and generally managed. This cross-device capability makes it great for collaboration or PDF editing on the go from any Internet-connected device.
Pros
Full feature set with edit, convert, create, sign, form management, OCR, security, and other PDF actions
Reliable and high-performance utility
Cons
Pricing can be prohibitive for smaller users and expensive for larger companies
Not very user-friendly if you don't have prior experience with the software
Hard to get a resolution for technical issues when escalated to customer service
Foxit PhantomPDF – Windows-like Interface
Another powerhouse in the world of PDF editing is PhantomPDF from Foxit Software. It comes with a more contemporary design than most other PDF editors and the one thing that makes it stand out is the amount of support collateral available in the form of video tutorials and guides.
Cloud Integration – Access documents directly from the cloud to make collaboration a breeze. Also integrated with major CMS platforms like WordPress through a collection of plugins.
Full-fledged PDF Editor – Most basic and advanced features are available based on the plan you choose, including object-based editing, conversion to Office and other formats, extensive integration with third-party tools, OCR, signature, and basic security
Pros
Extensive feature set for creating, editing, converting, and sharing PDF documents
Polished UI gives it a sophisticated feel
Cons
Most advanced features are in the Business plan, which is comparatively expensive
Free trial available but features have been restricted to those of the Phantom PDF Reader software after the 14-day free period
Kofax Power PDF – Great Basic Editor but No Advanced Features
Nuance Power PDF was rebranded as Kofax Power PDF but is essentially the same software dressed in new branding elements. The layout is very similar to MS Word, making it intuitive for most Windows users. The Mac version doesn't offer a Pro variant but can still do most standard actions like editing, conversion, digital signing, creating, and managing PDF files. Let's take a look at some standout features.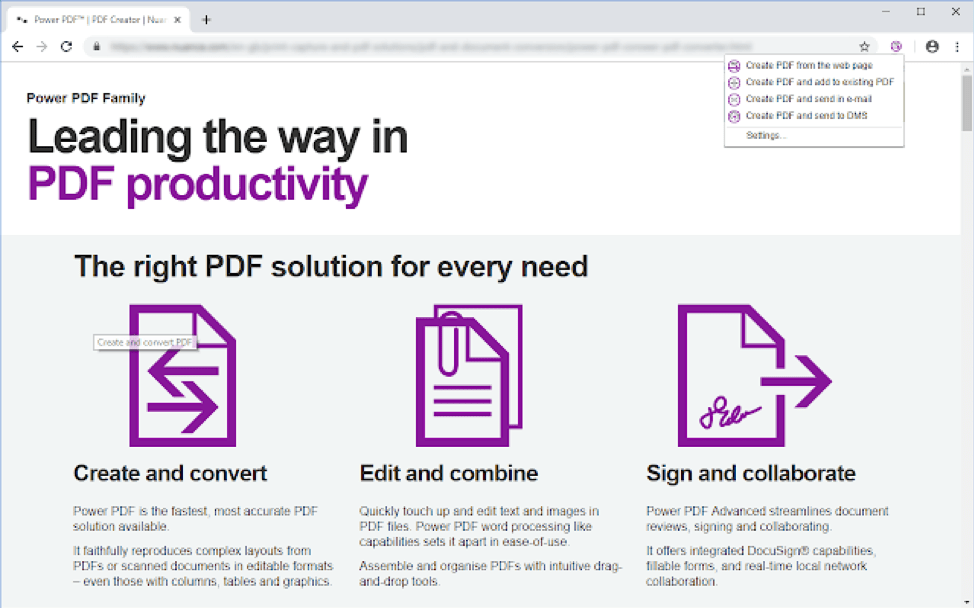 Easy PDF Editing – The intuitive controls and the pleasant interface make editing PDF documents easy and fast, allowing you to do advanced editing with both text and image-based PDFs.
DocuSign Integration – No native eSigning feature is available but that is more than compensated for by integration with the leader in digital signatures, DocuSign.
Pros
Intuitive and uncluttered UI makes it a very user-friendly PDF editor
Most commonly executed PDF tasks have a feature for it
Cons
Important advanced features like OCR and interactive form creation are missing
No provision to add password-based encryption for accessing or editing
SmallPDF – Free Online Utility
Essentially a free online utility, SmallPDF has made it to the Top PDF editors 2020 list because of its clear and user-friendly web applications. Different functions have dedicated pages for them, and you have at your disposal a wide range of tools for editing, compressing, converting, numbering, signing, protecting, unlocking, and managing pages in PDF.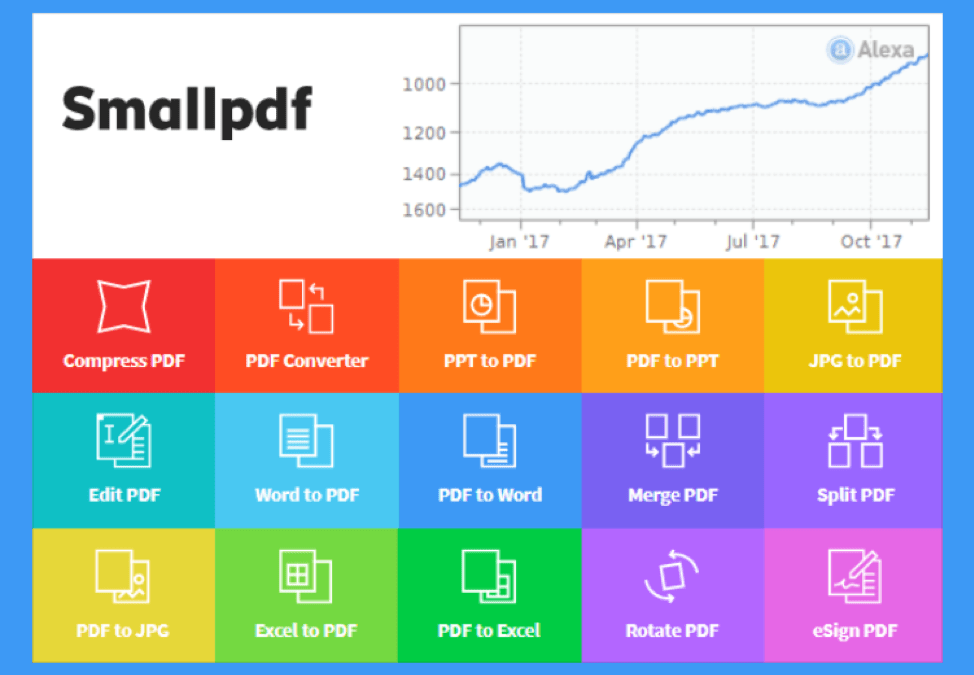 Desktop Version Available – In a sense, the SmallPDF online version is a sales conduit that leads to the downloadable software for Windows. Mac users will have to make do with the online version, but even the web modules are as robust as a desktop application, letting you seamlessly do various actions right inside your browser.
Pros
Easy and clean PDF editing and other functions
Reasonably accurate conversion in terms of maintaining fonts, layouts, etc.
Cons
No installable Mac version
Desktop version only available with a paid upgrade
Advanced features not available
Comparison Table