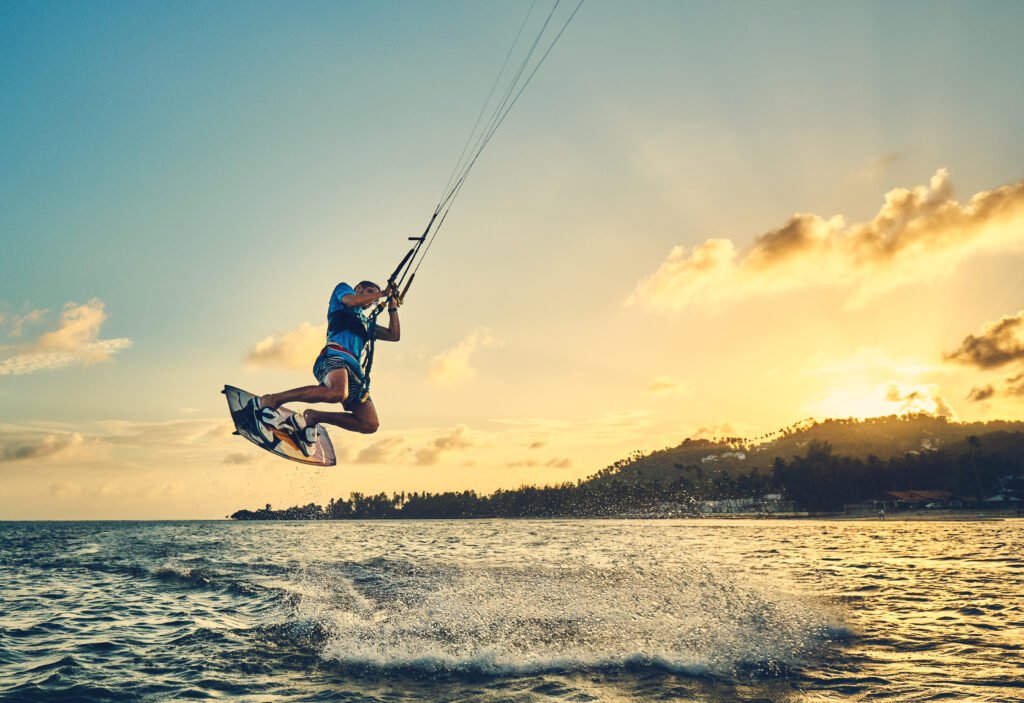 Kitesurfing, which is also referred as kiteboarding, is a watersport that blends the elements of surfing, wakeboarding, paragliding, snowboarding, windsurfing, and more, into one extreme sport.
Slowly becoming one of the fastest-growing hobbies in the world, kitesurfing is worth considering especially if you're looking for a new way to spend your time. Why lie idly on the beach when you can enjoy the water and build a great body while you're at it! All you need are some equipment, including, but not limited to, a good kite, bar and lines, the best kitesurf harness you can find, and you're ready to go. 
That being said, let's look at 6 reasons why you should try kitesurfing this year:
Good For The Health
Since it's an outdoor sport makes, kitesurfing is a trendy way to spend time, especially during the summers. However, in addition to your supply of the much-needed fresh air, kitesurfing also improves coordination and balance, trains your reflexes, and strengthens your whole body.
Compared to similar sports, such as windsurfing, kitesurfing requires less strength, making it a lot easier to get into. However, it requires technique and will require you to use muscles you never knew existed.
Lastly, by regularly engaging in kitesurfing, it'll leave you with a gentle tan, fresh appearance, burn calories, and leave you with the beach body you've always dreamt of.
Frees Your Mind
With the daily pressure of work and home responsibilities, kitesurfing will help you get your much-deserved break. During kitesurfing sessions, there's no time to mull over the stress and anxiety you may be carrying with you; it all washes away.
Moving your body during exercise leads to the release of hormones that make you happier. Additionally, all the movement and the changes you'll experience in your body will make you feel better about yourself, increasing your self-esteem. Also, mastering new skills, such as kitesurfing, is a great way of boosting confidence.
In addition to being relaxing and therapeutic, kitesurfing can also give you a tremendous adrenaline rush. It can be a relatively solitary sport if you want it to be, which is the perfect excuse to get away from crowds and have your own space.
To top it all, kitesurfing will tire you out in a delightful way, making it easier to relax and have a good night's sleep afterward.
Community
Kitesurfing is not a mere sport, but it's a lifestyle. Even if you're unsocial, it's still invariable that you'll get the opportunity to meet many people, some with similar interests as you. In the companionable atmosphere created at the beach or kite stations, everyone is part of a community and helps each other out. After all, using someone's help to launch and land a kite is a lot safer than doing it yourself.
Kitesurfers often experience their networks growing rapidly, which is made possible through social media as it makes remaining in contact with like-minded individuals much easier. Over time, the kitesurfing community has grown large, and being a part of it will open more doors for you.
Broaden Your Horizons
Most sports, kitesurfing being one of them, contribute a lot to one's personal development. Meeting new people, traveling, the sport itself, will all yield to uncountable new experiences that'll push you out of your comfort zone, leading you to growth and flexibility in ways you haven't imagined.
Travel
Kitesurfers are known to be avid travelers. They're always looking for new destinations to kitesurf at.
Fortunately, there are so many popular locations to choose from. You could kitesurf around the globe all year round and find the best stop according to your budget and needs. Leave the Buckingham palace and the colosseum for another time; kitesurfing will take you to some truly unusual places, such as Barker's National park, Cayman Islands.
Traveling in itself is hugely fulfilling, but put it together with kitesurfing, you have yourself an irresistible and addictive combination.
Fun
What more reason to try kitesurfing than the fact that it's fun. It's extremely enjoyable and almost everyone who has ever given kitesurfing a fair chance will agree.
Final Thoughts

Everyone kitesurfs for their own reasons, but one thing for sure is that it's one of the most exhilarating and satisfying ways to spend your time.
Kitesurfing is not the cheapest hobby to pursue, but it's definitely worth the money you put into it. They say you must invest your money in experiences and not things. Kitesurfing is an experience that your body and mind will thank you for.