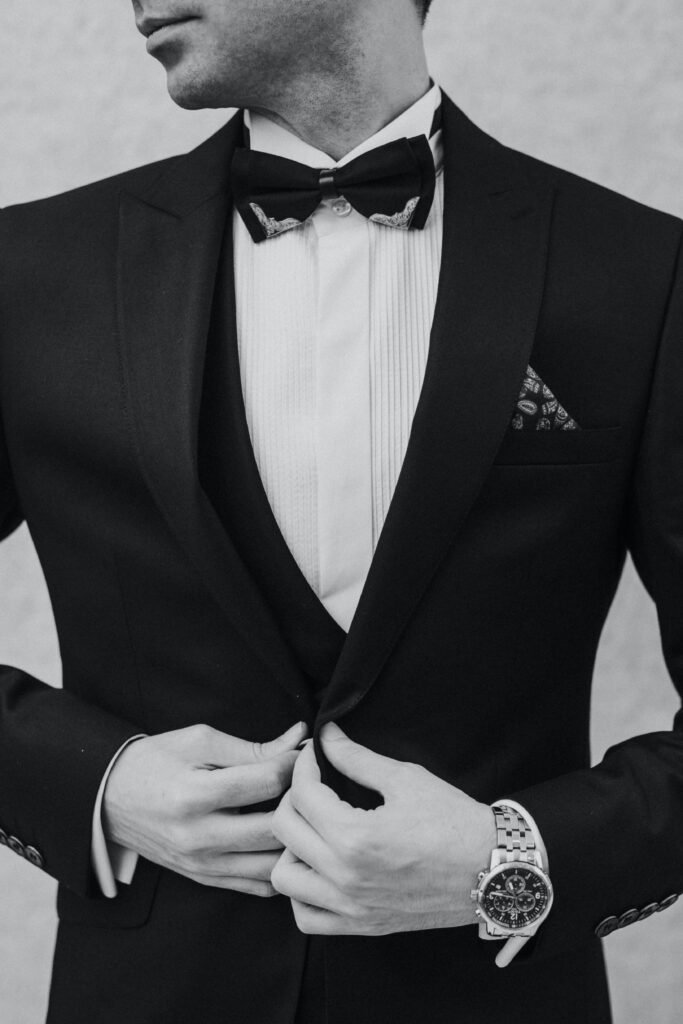 These days, the tuxedo rental market is booming, as people have shifted from buying formal men's wear to renting them for a few hours. However, whether you're a groom or someone who follows the latest fashion trends, picking the right tuxedo can be a challenging task. To make it easier for you, we'll dive into tuxedo styles rented the most in 2023 to update you on the most recent tuxedo trends. 
What Makes a Tuxedo?
Before we get into the ins and outs of trends in men's wear, let's establish what a tuxedo is. Often confused with a suit and assumed to be black, a tuxedo is different in that it has silk or satin lapels and a silk stripe lining the side of the pants. A tuxedo also usually has silk buttons, unlike a suit which may have buttons of any kind.
Whether you wear a tux depends on the occasion you're dressing up for. For example, a tux might be overdoing it if you're a groom and having a beach wedding. However, if it's an indoor wedding and your bride's wearing a princess gown, a tux might be all you need to look elegant, formal, and well-dressed all in one. Here are the top three ins and outs of tuxedo styles you should look out for this year when buying a tux.
Classic Tuxedos Are Always In
Tuxedos have been around since the 1970s and have won over the formal men's wear market ever since. Whether you're current on the latest tux trends or not, this menswear item is designed to make everyone look sharp.
Hence, if you're too perplexed by the newest fashion trends, go for a classic black tuxedo, and pair it with a black bowtie, formal shoes, and a white shirt. Whether you're a 17-year-old going to prom or a 60-year-old corporate officer, this look won't fail you. Be confident in your look and walk it with your unique style.
Double-Breasted Tuxedos Are Back
A style that disappeared a few years back, the old-school style double-breasted tuxedos are now returning and gaining more acceptance than ever. This tux has a unique design, with two sets of buttons at the front. Its elegance has made it the prime choice for high-end businessmen and the elite.

Celebrities like Ryan Gosling and Tom Hardy have also been spotted in double-breasted suits, bringing them back to the mainstream. If you're also looking to get a double-breasted tuxedo like those two, the most popular at the moment is one with a slim-fit cut, rich brown shade, paired with a crisp white shirt and cufflinks.
Accessorize Your Tuxedo
Accessorizing tuxedos is becoming a popular trend lately, with the most famous accessories being lapel pins and tie bars. If you wish to add some personality to your attire and get rid of that monotony, get a statement accessory that represents you and also fits your tuxedo style.
Endnote
Tuxedos make for the perfect timeless attire for formal events, letting you exude confidence. Before you style your tuxedo, you must ensure it fits you perfectly. You'll find many styling options available whether you're on a tight budget or looking to buy a designer tuxedo. Make sure to look over the latest trends before you get one.