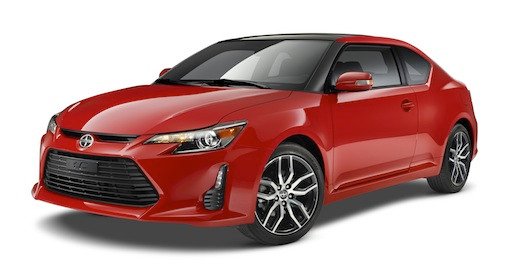 As I maneuver my 2014 Scion tC through shockingly merciful Hollywood traffic and up into the modest twisties in Griffith Park, I discuss with my passenger what exactly the tC is. Because it's not quite a hatchback, despite the fifth door. At the same time, it's not exactly a compact coupe, despite being … compact and coupe-ish. And so it competes with cars in both of those segments while also offering up a fairly unique hybrid of the two.
(Appropriately, this was the point in the conversation when a coyote — wolfish, dog-oid, yet neither wolf nor dog — trotted alongside us for a moment before disappearing back into the brush.)
This unique positioning has helped the tC become the strongest-selling car in Scion's lineup — but it's no longer the sexiest. That title now belongs to the FR-S, the 2+2 sports coupe Toyota developed in tandem with Subaru and released (as a Scion in America) last year. So how did the good folks at Scion respond when tweaking the 2014 installment of the tC? They gave it cosmetic and performance upgrades that borrow directly from the FR-S, of course. (Perhaps you've noticed the grill…)
The tC won't be mistaken for an FR-S. It still sports a 2.5-liter, 179 hp 4-cylinder engine mated to either a 6-speed manual or auto tranny. (The tC hits 60 mph in about 7.4 seconds, and provides a somewhat disappointing 23/31 mpg.) This year, however, sportier shocks, better body rigidity, and improved steering make it a little more fun to drive, as does Dynamic Rev Management tech borrowed from the FR-S that, for lack of a better explanation, makes it more entertaining to downshift the automatic transmission.
Inside, the plastic is still dispiritingly rigid. But the good news is that the tC — and eventually all Scions — gets a 6.1-inch LCD touchscreen that serves as an interface to an intuitive new infotainment system. And, appropriately for a car that boasts the youngest average buyer of any car (28), the audio system is much better than it has any right to be in a car at this price point.