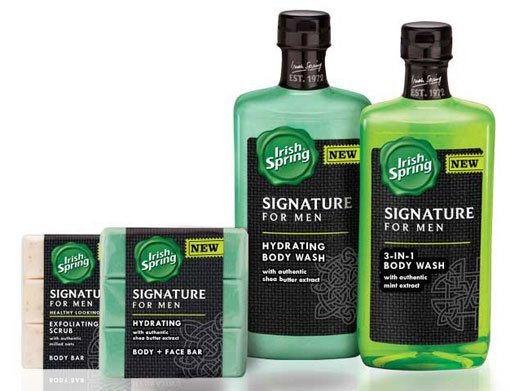 If all you remember of Irish Spring is the brick-hard soap bar from the 1990s that used to leave your skin dry and flaky, you won't find that with their new Signature for Men line. Fans of the bar soap can pick up a Hydrating soap bar made with shea butter; the exfoliating scrub bar is for — that's right — exfoliating your skin courtesy of milled oats. Us? We're into body washes, and the Signature Hydrating Body Wash For Men ($18 for 2 @ Amazon.com) is the same recipe as the bar soap and it smells damn good. The 3-in-1 has a faint minty scent and contains vitamin B for better hair health, but we're old school and like to keep the products we rub on our hair and nuts separate.
The Old Spice Fresh Collection is imbued with scents inspired by the ruggedness of nature. And not the type of musty, outdoorsy smell you might catch after a six-month heatwave. The Timber deodorant ($5 @ Amazon.com) is particularly pleasant and features a masculine redwood smell. Rub some on those rancid pits and it'll fights powerful body odor and wetness with an equally strong woodsy aroma culled straight from the great outdoors.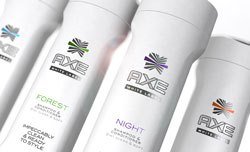 Axe is scratching and clawing to prove that they're more than a go-to for broke college kids, and their new White Label products are helping. You get four scents: Night, Forest, Island and Air that correspond to a variety of products for your body and hair. Our favorite: Cooling Style Cream ($7 @ Amazon.com), which offers a casual, flexible hold and comes in a bottle that looks like a dish soap dispenser. How does that make the product better? It doesn't, but we think it's pretty cool. That said, the cream leaves hair with some structure but not too stiff — so your main will have more of a thin candy shell than helmet-stiff.
The ManCave Grooming Set ($50 @ Amazon.com) features caffeine shampoo, body wash, shower gel, face wash, styling cream, and moisturizer. Rub a little of their moisturizer ($18 out of the set) — which features borage oil to enable skin to retain moisture and caffeine to energize and tighten skin — to keep yourself from looking like a hungover extra from The Walking Dead.