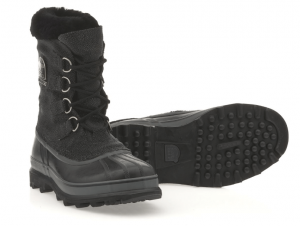 The criteria for what you require from winter boots never change: Boots need to prevent snow and slush from drenching you. They need to be able to stand up to harsh conditions without falling apart. And they need to keep your footsies toasty.
The thing is, most boots able to do all of those things make you look like Herman Munster … with tissue boxes strapped to his feet. But not Sorel's Caribou Stingray leather boots. Don't let the name confuse you; these suckers are made not with caribou hide, but with stingray leather. Yes, that's right — stingray leather. It's so durable that samurais liked to use it as armor (Badass!), and it looks cool.
The $800 Caribous — hey, stingrays don't grow on trees — also feature seam-sealed waterproof construction, a removable wool Innerboot, and a vulcanized rubber shell with a non-loading outsole. The result is a boot perfect for snowmobiling, hiking, or digging out Grandma post-blizzard when you can no longer stand her incessant phone calls begging for help.