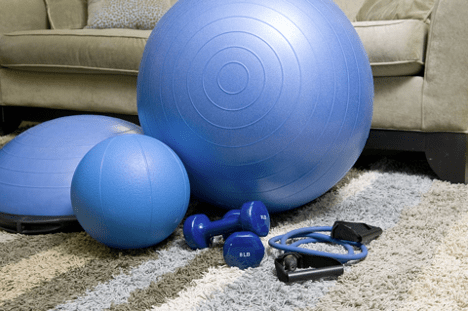 With COVID-19 keeping everyone at home, some of us find it challenging to keep up with our routines. One significant issue many are facing is losing out on gym time. There are a wide variety of options and work out routines that you can do at home. Don't let self-isolation be the reason you lose track of your personal fitness goals.
Tips for Staying Active While You're Stuck at Home
It doesn't matter if you're a weightlifter, yoga lover, spin class devotee, or barre enthusiast. There are at-home options for almost any flavor of fitness you choose. Look at some of the top 10 best Youtube workout channels if you are looking for good motivation. Along with finding a good class to watch, you can try various other ways of getting fit at home.
Focus on a Balanced Workout
To stay in shape and work out effectively, you should base your workout around the five elements of fitness. These elements are:
Warming Up– To get a proper warm-up, you can start with a light walk. This can be done around your house or your neighborhood. You can even start your warm-up cycling. Start off slow to get your body ready. If you have a stationary bike or treadmill, these are also great options for beginning your workout and getting a proper warm-up.
Cardio– The next part of your workout can easily be a smooth transition from the warm-up. Whether you've chosen to walk or cycle, once your body has had a few minutes of taking it slow, you are ready to kick it up a bit. Start to increase speed and get your cardio session started.
Resistance– If you have home weights, this is the perfect time to use them. If not, you can get creative by researching alternatives online. You can also utilize classics like push-ups and sit-ups. There are endless possibilities as long as you have the desire to make the most of your at-home workout.
Flexibility– From standard stretches to yoga moves, getting some stretching after your workout is a great way to improve flexibility and begin the cool-down process of lowering your heart rate.
Cooling Down– For the cool-down, do something similar to your warm-up. A nice walk or slow cycle is the perfect way to bring your heart rate down after your workout.
To get a total body workout, you want to cover all five of these bases. Getting this done in the morning is a great way to start the day strong while keeping yourself active.
Maintain a Routine
Quite possibly, the most difficult part of a home workout is keeping up with the routine. While home workouts may be more convenient, there are far more distractions. It's important to keep yourself on track and focused on your personal fitness goals. Some ways to stay on track are:
Find Virtual Workout Classes– There is a wide variety of classes available online, and you may find many of your local gyms and fitness studios switched over to online classes. By using these methods for your home workout, it gives you some structure and accountability for scheduling your workout routine.
Keep a Fitness Journal– Tracking your progress is another excellent way to keep track of your progress and help you to visualize your results. Keeping a log will help you improve your workouts while remaining focused on your routine.
Schedule Workout Time– Set a schedule and stick to it. You could also find a friend who wants to participate in a virtual workout if a group class isn't for you. Finding a fitness partner is a great way to hold yourself accountable, and working out together virtually will help keep you connected to the friends you may have been working out with regularly.
Set Fitness Goals– Setting goals is an essential part of any fitness routine. You want to have a goal to work for to keep you going. The key to keeping up with working out is setting your goals and using your progress as motivation.
Make the Most of What's Available
While having a gym or fitness studio is a great way to clear your head, get back in shape and get out of the house, you can still keep your goals on track without it. By using some of these home exercise tips and staying focused, you can maintain a healthy workout schedule that won't leave you out of shape when the gym opens back up again. When it comes down to it, the only thing you really need to maintain fitness is your body itself.