Summer days have come, which means that it's time for the child to update his wardrobe by buying light and comfortable things. In this article, we will tell you how to choose clothes for the boy and spend money wisely.
Three important steps to begin shopping
If you want to make the upcoming shopping successful we suggest you take the following steps:
Review your toddler's wardrobe and make an accurate list of items to purchase. The toddler boys fashion implies that the items should be easily combined with the existing clothing by color and style.
Children grow quickly, so before buying something new, be sure to update the measurements of the child to determine the size. It is also important to specify in advance the length and width of the new thing. It often happens that manufacturers create their own patterns, which is why the same size of different brands can vary significantly.
When considering the price, the cheap is likely to be of poor quality, while the expensive is a bad investment because children grow up very fast. The best choice is to choose good-quality items of famous brands from the middle price category.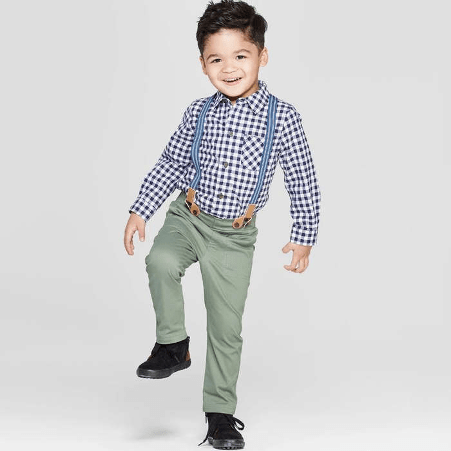 Important criteria
Boys of any age actively and energetically explore the world around them. Their daily adventures are impossible without traces of food and dirt on their clothes, hurt knees, and elbows due to falling from a bicycle and unsuccessful landings while jumping. Therefore, the key criteria when choosing clothes for toddlers are:
convenience and comfort;
safety and hygiene;
ability to withstand recent washing;
strength;
durability.
The fabric is an important criterion because good clothes for boys should be natural and environmentally friendly. Underwear and all products in direct contact with the skin should be made of materials of natural origin: cotton, linen, wool, etc. Such materials are characterized by breathability and softness.
Toddler clothes are known for bright colors: feel free to choose for boys all shades of blue, green, yellow, red, or white. Do not buy narrow clothing for your child, because such models harm blood circulation. However, in the free cut items, the boys will feel as comfortable as possible.
Our Selection
On the walk, the child will be comfortable in jeans of classic models without elaborate details. Capri pants and shorts are good for walking in warm days. Finish the look with bright shirts and t-shirts of various prints. They can also be worn under a jacket or sweatshirt, creating a relevant and modern look.
You can also think about buying swimming trunks. The key criteria for their selection are full compliance with size, comfort, and reliable fixation. Swimming trunks of bright and original colors are suitable for kids.
We hope that our recommendations on updating the wardrobe for your toddler will make your shopping easier and more enjoyable. Good luck!