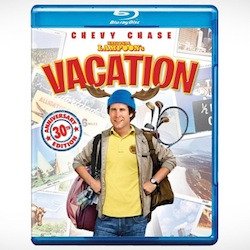 Walley World. The Family Truckster. Cousin Eddie. Christie Brinkley being all hot while driving a Ferrari 308 GTS, then stripping down and skinny dipping. There's basically nothing not to love about National Lampoon's Vacation, the 1983 comedy that celebrates its 30th anniversary this year.
Which is why we're giving away a copy of the 30th-anniversary Blu-ray edition of Vacation, which includes a 90-minute documentary about the making of the film. Assuming you already like us on Facebook — and how could you not like us on Facebook? — all you have to do to win is answer this question in the comments section below:
What was the worst thing that ever happened to you while on vacation?
You can enter until 11:59pm on June 16. Good luck!