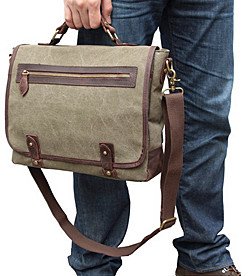 It's tough for men to carry stuff. Tiny man purses are a no-no, and bulging pockets both slow you down and make you look like either a pervert or a woman-hipped freak.
Also: 7 Stylish Pairs of Casual Shoes For Less Than $75
So for most guys, a solid messenger bag is the answer. And while security is important — you need something that's going to protect your stuff from both the elements and your own clumsiness — it's not the only thing that matters. You also want it to look good. These messenger bags do it all.
Pictured: #1. CLELO Vintage Leather Canvas Messenger ($50 @ Amazon.com)
Features multiple pockets and an adjustable shoulder strap. The main pocket can fit laptops up to 15 inches, as well as an iPad, e-Reader, and numerous papers. Casual enough for daily use, but with enough style to carry into the office.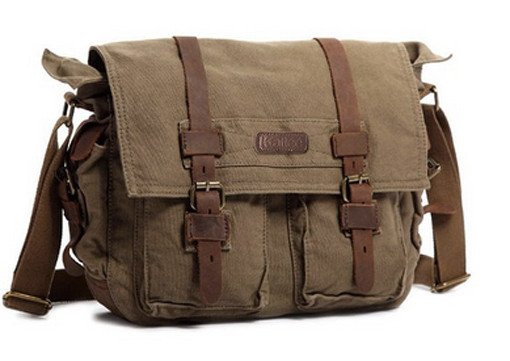 #2. Kattee Military Canvas Shoulder Messenger Bag ($54 @ Amazon.com)
Extra durable. Extra space. And extra affordable, the Katee Military Canvas bags are also made to fit a laptop up to 17 inches. A dual leather strap keeps the bag fastened to your body while the 2 large pockets and 2 side pockets keep your gadgets, gizmos, and other gear safe from the elements.
Also: 5 Awesome Men's Watches $200 And Under