If you plan to stay home and watch the Seahawks beat play the Patriots in Super Bowl XLIX, your priority when it comes to in-game eating and drinking is most likely beer, booze, and on a rare occasion, a cocktail mixed with beer and booze. Oh, and you'll eat snack food. Plenty of snack food.
Also: How To Pair Wine With Bar Food
And while we don't expect you to actually take the time to replicate any of these football stadiums in these photos that are made out of food — we're betting the over that you have a life — there's nothing wrong with gawking at pics of gastronomic talent and cherry picking a few ideas to spruce up your spread for Sunday.
START GALLERY: ANIMAL FLESH STADIUM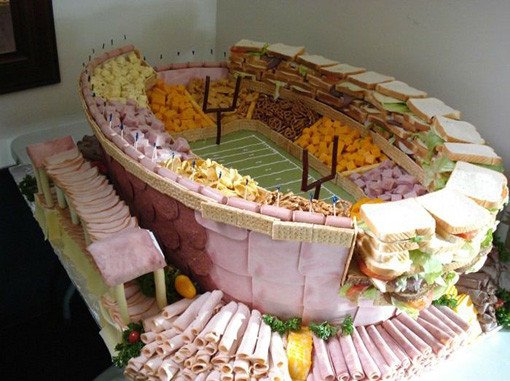 #2. Animal Flesh Stadium
Look at the detail! There's the tangible (and probably edible) goal posts; the turkey-covered walkway and cheese stick columns; and they even included the one angry Frito chip in the nosebleeds complaining about his seat. And thankfully, no animals were injured during the construction of this stadium.