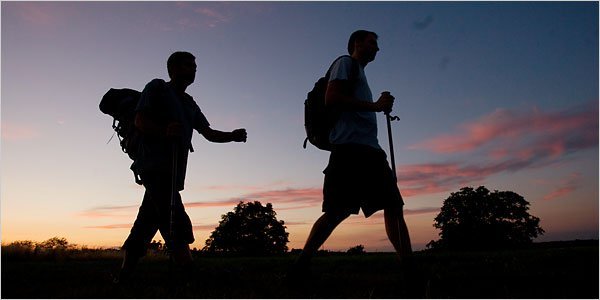 Best Gear for Hikers
There are so many things that can go wrong on a hike — getting lost for hours in the rain after taking a wrong turn, twisting an ankle on a protruding tree root, stumbling across sexually deviant hillbillies. And that's why, if you're doing anything much more intense than hiking in a city park, it's essential to pack the right essentials. From gear that will keep you comfortable to tech that will keep you in touch with the rest of the world, these 11 items should be on your body or inside of your backpack when you hike this summer.
Carrying Rambo's knife into the woods probably isn't necessary, but packing a decent blade is since you never know when you'll need to fend off a rabid possum or whittle yourself a Pan flute. The Redpoint boasts a stainless-steel serrated blade and weighs less than four ounces. SafeSpin deployment means you only need one hand for opening and closing, and that you slice off your digits as you do so.
Dumping water bottles into your old Jansport will be heavy and uncomfortable. The CamelBak Fourteener has a built-in 100-ounce HydroTanium reservoir, and its 1,650 cubic-inch capacity of storage space should be more than enough to hold your gear on a long day hike. Padded straps and hip belt offer great weight distribution and extra stability, and the mesh back helps keep your back cool and (relatively) sweat-free. A bonus: It comes with a fleece-lined pocket to keep your MP3 player or sunglasses safe and sound.
Since you never know what might happen, you shouldn't venture into the wilderness without a well-stocked medical kit. Tracking down all the necessities would be a nightmare, but the Adventure Medical Kit does the work for you. Each waterproof bag comes with a variety of bandages, over-the-counter medicines, dressings, and blister treatments so if something relatively minor happens, you'll be good to go.
Sawyer's two-in-one sunblock/insect repellent will prevent your skin from turning into scorched earth and keep your body free of itchy, painful, and potentially dangerous — you scratch them, they bleed and get infected — insect bites for up to eight hours. Its non-greasy, waterproof, sweatproof SpF-30 formula contains aloe and vitamin E to soothe and moisturize skin.