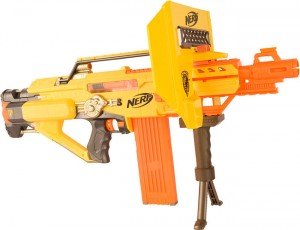 Nerf N-Strike Stampede ECS ($50)
How badass is this thing? Sure, it's made of plastic and is mostly yellow, but it looks like a friggin' SAW machine gun! Just imagine: You're hunkered down in your cubicle as you spot an enemy brigade attempting to capture the copier. Others may panic, but not you, because you can unleash hell on your coworkers with the most insane Nerf weapon on the planet — the Nerf N-Strike Stampede ECS.
The Stampede is the first fully automatic Nerf blaster, able to shoot up to three darts a second (a clip holds 18). Hook up the blast shield to repel the opposition's fire, and keep your aim true thanks to a biopod that steadies the gun and doubles as a handle. Yes!